by jen
Not a Fun Topic ~ But an Important One
Monday July 8, 2013
see more by
jen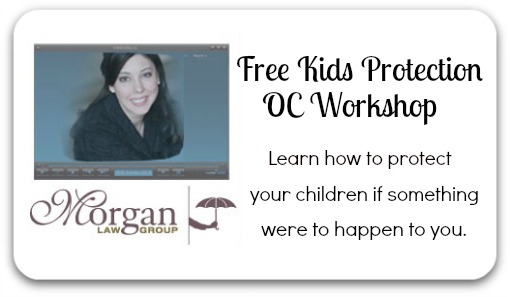 This post was written by long time Tiny Oranges sponsor, Orange County estate planning lawyer, Darlynn Morgan, about the importance of taking the steps to protect your children legally if something were to happen to you. Not a fun topic, but an important one. Darlynn is hosting two free workshops for OC parents this month, details below. Here is what she wrote:
As parents, we know that bad things can happen to our family and that's why we take steps to minimize our child's risk or exposure.
We invest in the very best car seats, cabinet locks, helmets and other equipment—all in the name of keeping our children safe.   It feels like that's all I ever think about, keeping my 3 year old son safe!
Yet when it comes to making sure our kids are protected in the event of mom or dad's sudden death or incapacity, most parents find security by sticking their heads in the sand, doing nothing and thinking positive thoughts.
For some parents, they are in such denial that they don't even let it cross their mind.  I understand; it's very very hard to think about this stuff.
I'm a mom and an Orange County estate planning lawyer, so I talk with a lot of parents each week. Whether I'm giving a Kids Protection Workshop or just hanging at the park or with my moms club, I hear a ton of "reasons" (excuses?) as to why parents have not legally documented guardians for their kids and why there's no plan for their money if the unthinkable happens.
Common Reasons Parents Have Not Legally Named Guardians for Their Children:
• The chances of my spouse and I dying together are slim
• I've told my family my wishes, I know they'll honor them if I'm not around
• I don't have a ton of assets to leave to my kids, everything is pretty straightforward
• I still have plenty of time to take care of this
• I thought about naming guardians, but I just couldn't decide on the best person (or hubby and I don't agree on who to choose)
Thanks to these reasons above, over 69% of parents in our area have not created a will or trust to protect their children if tragedy strikes!
They are gambling on odds, hoping they won't die at the same time as their spouse or that a judge will just go along with a family member who says they know your wishes, but they have nothing legally documented to back it up. (And that also assumes there's no fighting relatives, or multiple family members who come forward).
Real Families Who Were Unprepared For Tragedy
In the past 24 months, there were real life stories that captured national attention and reminded parents just how vulnerable their kids are if an unexpected tragedy strikes. I wanted to share just a couple because it is a vivid reminder of why getting your legal affairs in order is so critically important.
It was just two summers ago that parents Josh and Robin Berry were instantly killed when a vehicle entered their lane and totaled the family car.
Their 3 small children survived, with two suffering serious spinal cord injuries that left them paralyzed from the waist down and needing millions of dollars of treatment. Josh's brother and wife were appointed guardians of the children by a court and are now relying on public donations to help provide the children with a lifetime of medical and financial care.
In March of 2012, Marty and Elisa Wilcox were beaming as they drove home from the hospital with their 3-year-old and newborn son. The joyful moment quickly turned tragic when a car entered their lane and killed everyone except for the newborn boy, who was found unharmed in the bushes nearby. The child's grandmother was appointed to raise the child, but considering her age, who will look out for him when she's gone?
Will YOUR Kids Be Protected If Tragedy Strikes?
These stories are sobering reminders that none of us have a crystal ball and we can't accurately predict when serious illness, disability, death or other tragedies of life will strike.
What we can do as parents, however, is legally document the people we trust to raise our kids if the unthinkable happens.
These are the people who would raise our kids as closely to the way we would and provide them with the love, guidance and support they deserve. We can also put a solid financial plan in place to ensure our children's inheritance is never squandered or mismanage, and that there are plenty of resources available to support them in our absence.
It's an investment that is just as critical as a car seat, baby-proofing or any other measure designed to protect our kids. It's bad enough for a child to face the pain and grief of losing a parent—let alone being forced to live with relatives they don't like or have the wrong people controlling the money you've worked so hard to leave them behind.
It's Time To Get Your Affairs In Order
Fortunately, getting your legal house in order is EASY and it starts by being informed!  I understand how confusing it can be to plan for your family's future when you don't know where to start, what questions to ask or who to turn to for help.  But it's time to get proactive and learn how to protect your children if the unthinkable happens.
A great first step is attending an informational  workshop that is geared toward parents.
It's the best hour you'll ever spend when it comes to the future security and protection of your minor kids. Grab your hubby or a friend and learn how to put a fortress of protection around your family—no matter what happens!
Two Upcoming Free OC Workshops
Friday, July 19th at 11:30am at Granola Babies in Costa Mesa
and
Saturday, July 20th at 3:30pm at My Gym in Newport Beach  (Kids of all ages welcome! The kids will play under the supervision of the My Gym caretakers while you learn, what could be easier than that?)
These workshops fill up fast and you must reserve your family's spot.  Register today at www.KidsProtectionWorkshop.com or call Amy in our office at 949.260.1400.
Disclosure: Morgan Law Group is a Tiny Oranges Sponsor.
You Might Also Like