by jen
Sweat with Me for a Cause!
Wednesday August 28, 2013
see more by
jen

My friend Angela, owner of the popular fitbook by fitlosophy, lost her mom recently to a vicious form of leukemia just 18 days after she was diagnosed. 18 days. I truly can't imagine the depth of devastation.
To honor her momma's memory and raise money for the Leukemia & Lymphoma Society (LLS), she has joined their team in training (TNT) to run the Nike Women's Half Marathon with a goal to raise $50,000.
And I know she can do it.
How can you help?
Donate
Make a donation to her fitbook team HERE. Any amount helps, but if it is a donation of $56+ (the age her mom was when she lost her life), she will send you a free fitbook TNT as a thank you.
Attend Her Beach Bootcamp!
Angela is hosting a special Beach Bootcamp benefiting LLS coming up on Saturday, September 7th, 2013 in Corona del Mar at 8am. I have done one of Angela's bootcamps before and they ROCK. It is so much fun to be on the beach early in the morning getting a great workout in for a great cause.
My husband and I are going to do it – can you join us?!
To sign up, click HERE, then make a tax deductible donation of $50 to her TNT page. In the notes write "Bootcamp." Your donation will get you an awesome workout, free fitbook TNT ($24.95 value) and free ritual cleanse samples to recover.
Support fitbook TNT
Support LLS and track your progress with her new fitbook TNT. Track your fitness progress and goals and feel good knowing 20% of the proceeds are donated to LLS in memory of Angela's momma.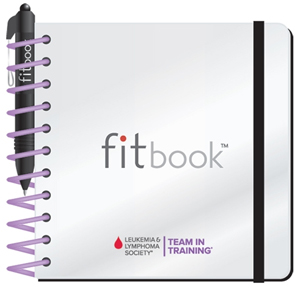 Join the fitbook team!
Want to run with the fitbook team? You can run any race from anywhere in the country. Just sign-up with team in training and select corporate team "fitbook" when you sign up.
I hope you will help me in supporting LLS and follow Angela's #run4momma. It is inspiriting to watch how such a devastating event can be used to raise awareness and money to fight blood cancers.
You are an inspiration, Angela, I will be rooting you on every step of the way!
You Might Also Like