by aimee
Put the Knife Down
Monday October 14, 2013
see more by
aimee

Today I'm highlighting 5 of the best no-carve pumpkin ideas I could find.
Truth be told, I have never been good at carving pumpkins. I honestly think I'm intimidated by it and so I start off shaky and I usually end up with a very basic, triangle eyed, jagged grinned, and totally asymmetrical pumpkin.
The great thing is my kids still think it's the best pumpkin ever — which is all that really matters.
But, this year I decided to get creative and hunt down some no-carve pumpkin ideas that make me feel really good about not having to pick up those carving tools. I hope you enjoy!
Mad for Plaid
I am a sucker for anything that has washi tape, it seems to make everything it sticks to look pretty. Including these plaid pumpkins from Real Simple Magazine. Extra bonus – they are so simple to do.  Click through for instructions. Image via Real Simple.
Polka Dot Pumpkin
This modern, no-carve pumpkin is from Sweet Paul Magazine. I love the look of a white pumpkin and my kids love to paint anything and everything, so they would enjoy this easy paint and stick idea. Click through for instructions. Image via Sweet Paul.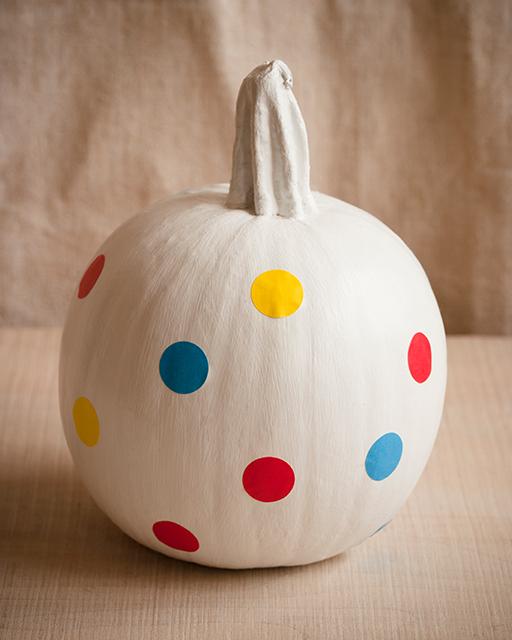 Get Glitzy Pumpkin
For anyone that likes a little glitz and glamor on Halloween, this Better Homes and Gardens pumpkin is for you. I know you have rhinestones in your craft basket, but did you ever think to decorate your pumpkin with them? Click through for instructions. Photo via Better Homes and Gardens.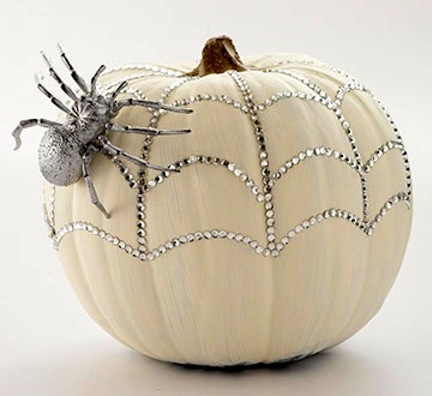 The Chalkboard Pumpkin
I had to highlight this no-carve chalkboard pumpkin because the options are endless, but this word find chalkboard pumpkin from Thistlewood Farm is my favorite — it is adorable! Click through for instructions.
Jack-o-Totem
What trick or treater would love to see this Jack -o-Totem when them came to your front porch? These quirky guys scream Happy Halloween! Thanks HGTV for the idea. Click through for instructions. Image via Jack-o-Totem.
Happy decorating your no carve pumpkins! 
You Might Also Like