by jen
Our Minted Holiday Cards
Friday December 6, 2013
see more by
jen

Happy holidays from our families to yours!
Minted has been a long time friend, sponsor and partner to Tiny Oranges and I just adore working with them. Not only the nicest group of people, but their products are all just so darn cute! I truly can go crazy on that site.
Minted was kind enough to provide both Susanne and I a credit to use towards cards this year as a gift, so we wanted to share our Minted holiday cards and what we loved most about ordering them through Minted.
Happy Holidays from the Scheumanns! 
I loved this family picture by Kristin Eldridge because it was a different kind of photo than I normally send. Plus, the moment behind what made us laugh makes me smile.
Since I knew the photo I wanted, I used  Minted's Find It Fast feature, where you can upload the photo you want to use, and then it will automatically put it into different designs so you can quickly scroll and see which ones catch your eye.
The moment I saw this Cherry Merry design, I knew it was "the One." Perfect sentiment and the words just fit with the photo.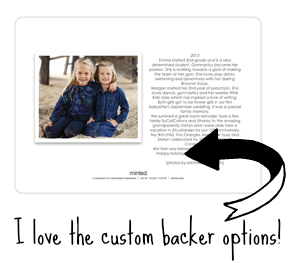 I was compelled to add the rounded corners because I just loved the look, and added a "Backer" with a photo and text so I could add a photo of my girls and a little about the happenings of 2013 in our family.
I really enjoy getting cards from people with a little synopsis of the year. It makes me feel more connected and in touch in these busy, busy days.
If you have not yet ordered your holiday cards, I can't more highly suggest checking out Minted. Their designs are one of a kind by indie designers and their service is phenomenal, from proofing to delivery.
Happy Holidays!
XOXO Jen & family
Happy Holidays from the Hendersons!
Holiday Cards make me smile, so I really enjoyed the process uploading our photos, again by the ultra talented Kristin Eldridge to Minted and previewing all the different designs!  There are so many to choose from, the filter function which lets me pick how many photos we'd like to use, colors, shape, photo orientation (I knew the pic I wanted to use was "portrait"), etc, is a life saver!
It was hard for me to pick! I would save my favorites, pour over them, and email my husband and Jen for their opinions because it's just so hard when there are so many amazing designs.
This year was a tight race. Some of my favorite contenders were Glitter Holiday Photo Card and Glitter Garden Holiday Photo Card.  We decided upon Postmarked Holiday Postcard, a POSTCARD (so cute!) with an instagram-y feel to it, and included a bonus little photo spot on the address side.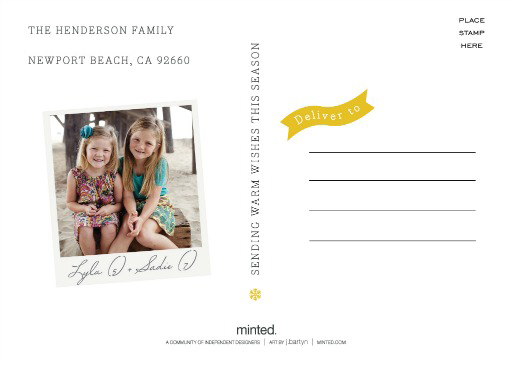 When placing my order I included a request in the Notes Section to remove the color filter effect on the card because I loved the colors of our photo this year. Also, our last name is long and I wanted to make sure it worked in the little spot allotted on the front.  The proof came (quickly) and it was perfect!  It's so great knowing they have a Designer making sure it looks perfect!
Couldn't be more thrilled with how they turned out, the card stock is so thick!  I'm off to address them now-
Happy Holidays!
Susanne and family
You Might Also Like