by jen
Holiday Gift Idea for Your Girlies
Monday December 9, 2013
see more by
jen

Recently my dear friend from college, Tara, Stella & Dot Stylist extraordinaire, sent my girls this super cute Poppy Bracelet Set from the Stella & Dot Girls' Collection as a thank you for the hand me down clothes we passed on to her little daughter.
I think at some point I had heard that Stella & Dot had jewelry for girls, but I had never seen any before.  The bracelets are adorable, which is why I wanted to share in case you are looking for holiday gift ideas for older girls this holiday season.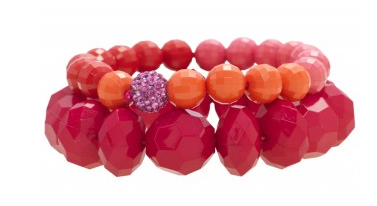 There comes a point when girls outgrow the toy stage in giving gifts, which can leave some people pondering what to get older girls, which usually comes down to art or craft supplies, books, clothes or accessories.
I love the idea of special jewelry pieces for girls as gifts, especially since many of their gifts can be personalized to fit the girl's style or passions, like their charm initials and birthstone charms.
Making a personalized charm necklace with the girl's charm initial and birthstone would make a darling gift.  I vividly remember thinking my birthstone was SO cool when I was younger!
I also love that this is affordable jewelry for young girls, which means it would also make a cute gift for BFF's to give each other. Click on over and browse around Tara's site to see if anything catches your eye and I hope you have enjoyed these holiday gift ideas for older girls!
Tara Anderson is a Stella & Dot Stylist and the above links go to her individual site. 
You Might Also Like