by jen
TIDY Orange County Cleaning Service [Giveaway]
Thursday August 7, 2014
see more by
jen

[Sponsor]
I can't even tell you how much I love it when I speak on the phone to a new sponsor and find myself genuinely EXCITED about their business.
This was the experience I had last week when speaking with one of the TIDY cleaning service owners, Kristen, about TIDY and what makes it special.
Please note: TIDY is giving away a 2 1/2 hour TIDY + cleaning service to one lucky OC winner today – make sure to enter below!
TIDY cleaning service is not just a house cleaner, but a homekeeper, offering affordable recurring plans for Orange County individuals and families to help keep their homes clean and tidy.
5-Star Hotel Details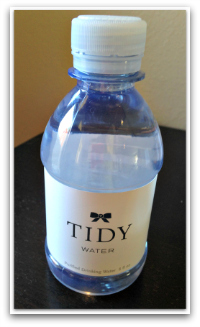 TIDY wants to make you feel like a pampered resort guest in your own home.
In fact, the genesis behind the TIDY concept was to give people the "just walked into my hotel room at the end of the day" feeling.
You know that feeling?
When you come back to your hotel room and find that it has been cleaned, tidied up, and left with special touches like waters or mints?
TIDY wants you to feel like that when you walk into your home.
That is why they call themselves homekeepers, because caring for someone's home goes beyond basic cleaning.
TIDY Homekeepers
TIDY homekeepers are carefully screened, background checked, insured, bonded and are required to attend rigorous training on the efficient TIDY cleaning process.
Donned in signature TIDY polos, the TIDY fairies will use their Dyson vacuums, color coded cleaning cloths (by room), and Method cleaning products to make your home sparkle.
Attention is in the details, so don't be surprised if you find your throw carefully arranged on your couch, or a mint on your pillow.
Affordable OC House Cleaning 
Okay, okay, sounds great, but how much does it cost? That's what you are thinking, right? I was.
TIDY is a recurring homekeeping service and more affordable than you might think. By recurring, it means you must sign up for a regular cleaning schedule ranging from multiple times a week to once every one to three weeks.
This way the TIDY fairies can ensure that your home stays nice and tidy, just the way you like it. But don't worry, you can cancel anytime.
Payments are made via credit card, and automatically billed on the day of service. LOVE THIS.
There are three basic types of services ranging from $40 – $240. 
The TIDY is their starting service offered at a minimum recurrence of once a week and focuses on the areas that are most used.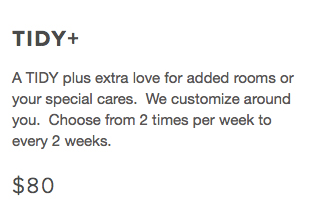 The TIDY + is offered at a minimum occurrence of every other week, and includes the TIDY areas plus two additional areas.  I am going to be getting a TIDY + in the upcoming weeks so I can tell you exactly how it works.
The Mighty TIDY is a deep cleaning spanning 4 hours. Two homekeepers will work to make sure every nook and cranny is scrubbed and sparkly. This can be a regular service, or some can choose to do this service first to get everything super clean, and then go on a recurring TIDY or TIDY + schedule.
 TIDY perks you should know about: 
~ You can schedule your service by calling their front desk, or easily schedule via the free TIDY – Home Cleaning app. In the app, you can leave special notes for your homekeeper with special projects or points of focus.
~ Payment is done through CREDIT CARD. No worrying about running to the ATM to get money, payment is done online (including gratuity which is included), so payment is processed day of service totally hassle-free.
~ Referrals are deeply appreciated. Refer a new client to TIDY and you will receive a beautiful bouquet of flowers for your shiny, tidy home.
Hooray! It's a Tiny TIDY Giveaway! 
You Might Also Like