by jen
Mattresses 101
Wednesday October 1, 2014
see more by
jen

Disclosure: I am a Serta Brand Ambassador and am compensated for my time and participation in the program and have received complimentary products to help communicate our first-hand experiences.
A good night's sleep is one of the most important gifts you can give yourself and your mattress quality plays a huge role in how well you are sleeping. If you have been tossing or turning, or waking up with sore muscles or a stiff back, it might be time to shop for a new mattress.
One of the most important things you will have to determine when selecting a new mattress is what kind of mattress is right for you? Innerspring vs memory foam? Or even memory foam hybrid?
It's easy to put off mattress shopping because the whole process can be a bit overwhelming, however, Serta actually makes the process quite simple. Let me start by explaining the differences in Serta's different types of mattresses.
Innerspring Mattresses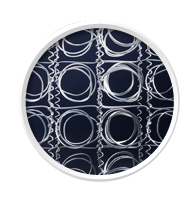 Innerspring mattresses are a traditional type of mattress, made with a steel coil innerspring support system and interior metal coils that give the mattress a little bounce.
On the top of an innerspring mattress, various foams and fibers are used to provide comfort on the sleeping surface.
Serta has a variety of innerspring constructions providing different levels of comfort and support.
Memory Foam Mattresses [iComfort] 
A memory foam mattress features an all-foam support core that provides superior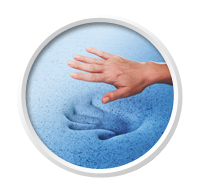 support and pressure-relieving comfort.
The iComfort Memory Foam mattresses feature Serta's Cool Action Dual Effects Gel Memory Foam which is designed to disperse heat build up so that the sleeping surface is kept cool and comfortable.
One of the best benefits of a memory foam mattress is motion isolation, meaning if your partner moves, the mattress doesn't doesn't bounce with them. This can drastically reduce the amount of tossing, turning, and waking throughout the night.
Memory Foam Hybrid [iSeries]
Can't decide on innerspring vs memory foam? Well, Serta took the best of both mattress constructions and made a series of mattresses combining the support of a traditional steel coil innerspring bed with the comfort of memory foam.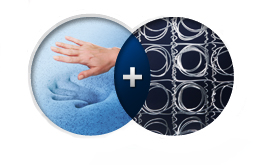 The Serta iSeries mattress line is their memory foam hybrid collection.
Every new iSeries hybrid mattress features the same Cool Action Dual Effects Gel Memory Foam along with the support of a traditional innerspring bed.
Innerspring vs Memory Foam:
How to Choose the Right Mattress For You 
Now that you understand the different types of mattress options, how do you know how to pick the right mattress for you?
First, you can go online and take the Serta Mattress Selector Quiz to see what recommendations Serta would make based on your answers to a few simple questions.
You can also download the Serta Test Rest app for free and take the quiz through the app. Once finished you can use the app in-store to record your thoughts on the different models.
I made this video awhile back on how to shop for a mattress so you can find more tips on making the most out of your in-store shopping experience.
2014 Serta Mattress Improvements 
The Serta iComfort mattresses were first introduced in 2011, with the iSeries following in 2012.  Now, just this year, Serta introduced all-new iComfort and iSeries models with brand new Cool Action Dual Effects gel memory foam.  This new material combines two different types of gel, giving consumers up to 25% more gel than the original formula.
Meaning just that much more comfort and cooling effects for your best night's sleep. Ever.
My husband and I have been sleeping on a new 2014 iComfort mattress for a few months now and it is hard to believe Serta could have made improvements to an already amazing product, but they did.
Stay tuned for my full 2014 iComfort mattress review. I hope this post has helped explain the different mattress types. Now, if you are not sleeping well, time to put getting a new mattress on the radar!
You Might Also Like