by jen
World's Best Sugar Cookie Recipe From 1978
Wednesday December 17, 2014
see more by
jen

This is seriously the best sugar cookie recipe ever.  The recipe was featured in Sunset Magazine, October 1978, and our family has been making these sugar cookies every year since.
I vividly remember my mom made these sugar cookies with a number 4 cookie cutter for my 4th birthday party. All the kids got to frost and decorate their own, which must have been a tremendous hit because to this day I still remember those #4 cookies.  She got the idea taken from the magazine article, the Pinterest of 1978.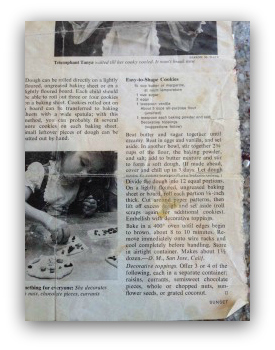 I can still envision the recipe on a torn out magazine page lying on the kitchen counter, sprinkled with flour, and becoming more crinkled over the years.
We would make these cookies every Christmas, and for other holidays too. If there was a cookie cutter for the holiday, a sugar cookie would get made!
The dough is super easy to roll out and we always had fun with all the shapes and especially the frosting and decorating part.
For the past few years, it has been a tradition for my mom (now 'Nana') to have the grandkids over for a fun morning of making and frosting Christmas cookies.  You can admire their decorating skills from last weekend in the photo above.
There is something so special about seeing a recipe or tradition passed down through the generations.
And I just LOVE, and I mean LOVE, the fact that she still references the torn out magazine page recipe out of her recipe box with my kids.
EASY-TO-SHAPE COOKIES (Sunset Magazine, October 1978)
3/4 cup butter or margarine, at room temperature
1 cup sugar
2 eggs
1 t. vanilla
About 3 cups (unsifted) all-purpose flour
1 t. baking powder
1 t. salt
Frosting and decorations of your choice
Beat butter and sugar together until creamy.  Beat in eggs and vanilla, and set aside.  In another bowl, stir together 2 3/4 cups of the flour, the baking powder and salt; add to butter mixture and stir to form a soft dough.  (If made ahead, cover and chill up to 3 days.  Let dough come to room temperature before using.)
Take a small amount of the dough and roll out until 1/8 inch thick.  We found this easiest if you have several kids making them to give each kid their own ball to roll out.  Use cookie cutters to cut cookies and carefully use a spatula and place on an ungreased cookie sheet.  Return the excess to the dough and repeat until it's all gone.
Bake in a 400 degree oven for 8-10 minutes of until edges begin to brown.  Remove immediately onto wire racks and cool completely before handling. Decorate as you or the kiddos wish – frosting, sprinkles, colored sugar, etc!  Store in an airtight container.  Makes about 1 1/2 dozen.
Please give them a try this holiday season and let me know if you too, think it is the best sugar cookie recipe ever. You will…
You Might Also Like