by jen
Local Love: Bel Bambini Customer Appreciation Month
Monday March 9, 2015
see more by
jen

All month long Bel Bambini, a super darling baby boutique in Costa Mesa, is giving away gift cards as a part of the Bel Bambini customer appreciation month. Moms, they like you, they really, really like you.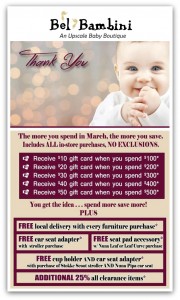 Bel Bambini is not just any baby boutique, it's an entire experience. One in which every customer is a VIM (very important mama).
Combining the top of the line infant, toddler and maternity products along with concierge-like service, Bel Bambini is your one-stop shop for the perfect baby gift or the ideal spot to create a baby registry.
All month long Bel Bambini is thanking their VIM's with some TRULY amazing perks – in the name of gift cards with in-store purchases. The more you spend, the more you get.
A $10 gift card when you spend $100
$20 when you spend $200
$30 when you spend $300
$40 when you spend $400
$50 when you spend $500
And FREE add-ons with purchases, like get a free car seat adapter with carseat purchase. Who doesn't love a free add-on?
Plus things like an additional 25% off all clearance items!
So if you are in the market for baby gifts, shower gifts or registry ideas, March is the perfect time to pop into Bel Bambini to save big.
Visit details about Bel Bambini Customer Appreciation Month here!
You Might Also Like