by christy
Pregnancy Brain
Thursday March 12, 2015
see more by
christy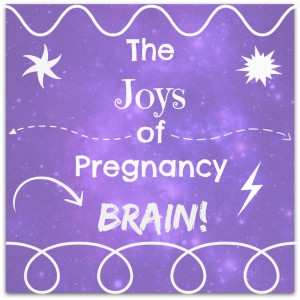 The Pregnancy Diaries…
My newest reality check – "pregnancy brain" is no joke!  Who's with me, mamas??
Whether it's been awhile since you've been pregnant, or are currently pregnant, I think that every mom can relate to that crazy pregnancy brain phenomenon.
Like, my husband is now reminding me about things I didn't even realize I'd forgotten.  And just pats me on the back and sympathetically smiles each morning when I ask him for the fourth time in 10 minutes what he has planned for the day and if he fed the dog.
As you probably know by now, I am a Type-A, very organized, and (usually) very efficient mama.  Well, I was…until I took a positive pregnancy test…and within three weeks…pregnancy brain set in. (Insert heavy sigh.)
A note to my third child – I love you more than my own life…but for mama's sanity and for the sake of your daddy and big brother and sister, can you please stop sucking up my brain cells???
I knew it was going downhill fast when I stopped and started this blog about six times.  And I had to call my husband and ask him to remind me about one of my funniest pregnancy brain moments for the blog…to which he replied, "Oh honey.  This is one of them."  (Thanks, love.)
To moms' credits everywhere, pregnancy brain is actually a thing.  Yes, I've researched this.  Take a look:
 From What To Expect When You're Expecting – Forgetfulness During Pregnancy or Pregnancy Brain
 From WebMD – Pregnancy Brain: Myth or Reality
From parents.com – Dealing with Pregnancy Brain
 From todaysparent.com – Pregnancy Brain – It's Not All in Your Head
Okay, this makes me feel a little bit better.  At least we can all rest easy knowing that this is perfectly normal…and we're not alone.
So for now, I've decided to embrace it, accept it, and do the following to help me stay sane…and I bet all of you pregnant mamas out there can relate!
– I write everything down.  Sticky notes, taped notes to the fridge, notes left in my car…can't have too many reminders laying around.  If I'm out and about without anything to write with, I text myself.
– I set my phone alarm multiple times a day.  Especially when it comes to kid pick-ups, or appointments that I have to be at.
– As soon as I receive information that requires a "to-do," I try to get it done asap.  No time like the present.  If I let it sit too long, it will most likely float off to pregnancy Never Neverland.
– I've asked for a lot more help this pregnancy.  From my husband.  From my two older kids. From my mom and mother-in-law. From my friends. Between the exhaustion and fatigue, the all day sickness (yep, this little precious munchkin is keeping me on my toes – all.day.long)… and then add in this lovely pregnancy brain…I've recognized that I just need more help.  And thanks to my amazing family and friends, they are giving that much needed support.
I'm still holding out hope that the second half of my pregnancy will be a little easier than the first.  Meanwhile, I am so grateful and excited to share that my beautiful little babykins is growing, healthy and right on track!  Thank you for reading along and sharing this pregnancy journey with me!
Anyone else out there in pregnancy-land dealing with pregnancy brain?  Any tips or funny stories to share?  Comment below and we can giggle together!
You Might Also Like