by christy
Local Love: Spring Break in the OC
Monday March 23, 2015
see more by
christy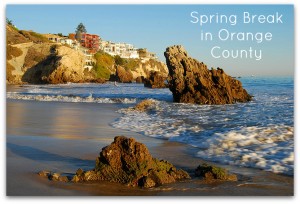 With Spring Break right around the corner, this post is dedicated to enjoying Spring Break in Orange County…and how fun a "staycation" can be!  Here's my list of fun things to do, and I would love to hear from you – please comment below, and let me know about your favorite things to do with your kids around town!
Tiny Oranges' Recommendations
Let's kick things off with some of Tiny Oranges' recommendations and favorite things to do with kids in Orange County!
– I wrote a blog all about fun activities to do in warm weather – and how to keep cool!
– Jen wrote a blog about her favorite OC outing ides for kids – check it out!
– Read Jen's blog about this fabulous Plan a Day Out website – a site ALL OC moms should know about it!  Check it out here – "Whatcha Going to do Today?" This is a great tool to use over Spring Break!
– Interested in being outside in the fresh air?  Read Lisa's blog all about where to take some beautiful OC nature walks.
– Want to just "keep it simple" this break?  Read my blog about fun, easy activities to do with your littles – "Keeping it Simple with Kid Activities."
"Beach Therapy"
People come from all over the country to vacation at our beautiful beaches…and they are just a hop, skip and a jump away from us here in OC!  Here are some of my favorite beaches to take the kids to…and I'd love to hear about yours.
Baby Beach (Dana Point)
Aliso Creek Beach (Laguna Beach, has a playground!)
Corona Del Mar Beach (Corona Del Mar)
Balboa Pier Beach (Newport Beach, has a playground!)
Jen also wrote a blog about her best kid beaches in the OC – check it out!
Bouncy Play
Let them bounce out their energy!  I love taking my kids to any place they can be in a safe, enclosed (air conditioned!) kid's bounce house.  Here are some Orange County bouncing options:
Jump 'N Jammin (Mission Viejo)
Pump it Up (Lake Forest, Irvine)
Scooter's Jungle (Aliso Viejo)
Big Air Trampoline Park (Laguna Hills)
Frogg's Bounce House (Fountain Valley)
Jump Sky High (Costa Mesa)
Museums, Zoos and Parks
Oh my gosh, Orange County has TONS of super fun places to take your little ones!  Here are some of my favorites:
Pretend City Children's Museum
Irvine Park and Orange County Zoo
Bowling Fun
Take your kids bowling!  Mine have never been, and I think they would have a blast!  Look up the bowling alley closest to you, and watch for fun theme days or kid-specific hours.
Irvine Lanes

Saddleback Lanes

Tustin Lanes
Theme Parks
This is a no-brainer – we are a mecca of theme parks here in So Cal!  So if you want to take your kiddos for a special treat, take them to one of these awesome theme parks in our area.  Just make sure to do your online research to check out any possible ticket discount and hours of operation.
Movie Time
With our recent heat wave, a nice cool, air conditioned movie theater sounds amazing!  Look up your local movie times and take your kiddos for a theater treat.  Keep an eye out for those dollar movie theaters, too!
Check out the OC Weekly for a great list of Orange County movie theater options.
And if you have little ones, I also encourage you to read my blog on "Tips for Taking Little Kids to the Movie Theater" – hope they help!
Day Camps
Another idea is to check out local Spring Break day camps – think about your local gymnastics gyms, martial arts studios, swim places, YMCAs, community centers, etc. – many times these organizations will offer half day or full day camps during Spring Break.  It's worth looking into!
A Pajama Day at Home
Sometimes my kids just want to stay in their jammies, play Legos, and zone out to Disney Junior.  And that's totally okay with me!  I try to plan at least one day out of their Spring Break vacation to have a pajama day – planned down-time, if you will.  Our schedules are so crazy during the school year, sometimes we all just need a breather.
I let them build good old fashioned "forts" with blankets, have a picnic in the backyard, watch movies with popcorn, and just veg out.  They love it, and so do I!
Okay mamas, let's keep this list going!  Where are your favorite places to go?  Favorite things to do with your kiddos?
All of us at Tiny Oranges wishes you a fabulous, fun Spring Break!!
Photo credit: Flickr, 
 All rights reserved by Talo66
You Might Also Like