by jen
Teachers Pay Teachers
Monday April 6, 2015
see more by
jen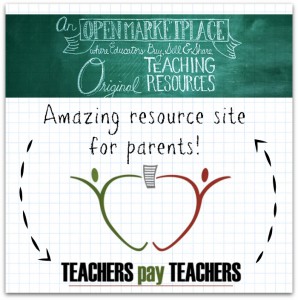 I was sitting watching my daughters in their Team OC gymnastics class last week when I struck up a conversation with a mom next to me. Her kindergarten aged son was diligently working on worksheets in a binder next to her while we chatted. Being so impressed he was doing doing worksheets and not playing on a device, I took a closer look and noticed the difficulty of the worksheet.
Having a kindergartener myself, and assuming it was his homework, I expressed my shock at the difficulty. She then told me it wasn't his homework, but Teachers Pay Teachers B.A.T. (Brain's Always Thinking) Book for 1st grade. Teachers Pay Teachers?
"You haven't heard of Teachers Pay Teachers?!" she asked as she then professed her love for the site and told me all about it. She herself is a 2nd grade teacher and uses it all the time, professionally and personally.
When means instant blog post for me to share with you.
Teachers Pay Teachers 
TeachersPayTeachers.com is an educational resource site where teachers have the opportunity to sell their original teaching resources. It is chock full, I mean chock full of the most amazing printables for grades Pre-K through 12th grade.
You can search by grade, subject, Common Core, price, anything. Many downloads have a fee (not huge), but there are also a ton of free educational printables you can find.
If you are on Spring Break this week and have some time to kill, a worksheet or two might come in handy, especially if they don't think it's  schoolwork but a fun activity sheet.
And definitely bookmark this site for summer!
You Might Also Like