by jen
Limeapple Active Wear Sets at Costco!
Tuesday April 14, 2015
see more by
jen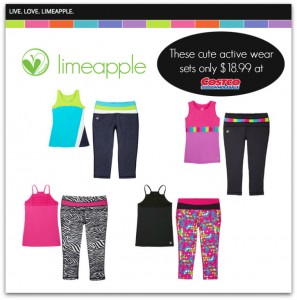 As a mom of two girls, I personally love the growing popularity of active wear lines. After all, "Strong is the new pretty" and I think that is a really powerful message for young girls. What I don't love are some of the price tags that come along with some active wear lines which is why I am thrilled to share Limeapple active wear with you today AND a special Costco promotion they are running this month. For a steal.
See those four cute tank and capri sets above offered in girls' sizes 6 – 14? In (Western U.S.) Costco stores now for a very limited time and also on Costco online they are selling for, are you ready…only $18.99! Ordering online? Shipping is free. Mommy like!
Limeapple Active Wear
Limeapple sent me a set for review and I tested it out on my SUPER active 3rd grader.
Give her a cute active wear set and a camera and she was on fire (below), and loves the pieces.
Note: She is a petite 8-year-old (51″ and 56 lbs) so the set she is wearing is actually a size 6. We also received a size 7, but it was too big on her.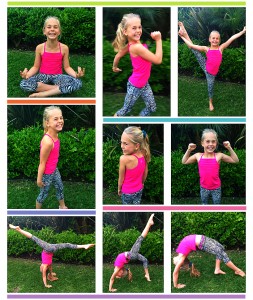 Limeapple also carries boutique pieces for school, active wear for weekends and afters school activities and also a darling swim line.
Mamas, if you have active girls stock up on these cute sets because I am telling you, the price is phenomenal for the quality and cute styles.
But you have to jump on this QUICK because they will only be available for this price at Costco through early May!
You Might Also Like