by jen
You Know You Are Pregnant When…
Monday April 20, 2015
see more by
jen

[Post includes Amazon Affiliate links]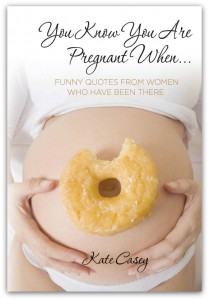 Fellow Orange County mom and pop culture humorist, Kate Casey, of Love and Knuckles has written a new book on pregnancy that will make you laugh out loud (just try not to pee a little when you do).
The book highlights real quotes from real women (and the men who had to live with them) on all the wild changes that happen during pregnancy. From hormonal outbursts to bizarre cravings the funny anecdotes are particularly amusing because, well, they're real.
You Know You are Pregnant When… is the perfect baby shower or congratulations on your pregnancy gift.
Here is a sample of some of the quotes you will find in You Know You Are Pregnant When…
You Know You Are Pregnant When…
Hormones
You ask your husband at least three times a day if you are getting too fat.—Katherine L., Austin, TX
You consider punching your husband when he suggests you might be getting too fat.—LeeAnn P., Round Rock, TX 
State of Mind
You arrive at work to be pulled aside by your secretary, who tells you that your shoes don't match.—Meghan M., Alexandria, VA
You start checking out strollers on the street like you used to check out hot guys.—Braunwyn B., Miami, FL.
Strange Habits
You add "pregnancy" and "normal?" to everything you Google.—Samantha S., Laguna Niguel, CA
You become obsessed with the color of your discharge.—Melanie H., Appleton, WI
Eating Habits
You make spaghetti at 8:00 a.m.—Julia M., Monrovia, CA
That second donut at the D&D drive-through is justified because it is "for the baby."—Caitlin O., Boston, MA
You Might Also Like