by jen
Who Could Use a Free Mani?
Thursday April 23, 2015
see more by
jen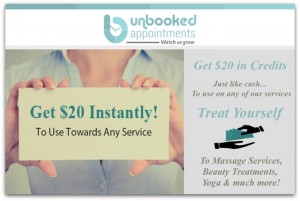 [Sponsor]
Who could use a free mani? Or an extreme discount on a massage or facial? Ladies, and gentleman, it is time to treat yourself with this Unbooked Appointments coupon for a free $20 credit to use towards a service of your choice.  Just click here, enter your email, and you will receive a $20 credit in your account to use towards your next booking.
What is Unbooked Appointments?
Unbooked Appointments works with service providers to help book them services during their slower days/times at a discounted rate.  With categories like Beauty and Spas, Health and Fitness, Auto, Home and Garden and Things to Do, you can search your county by category to see what appointments might work for you.
Then, "Go When They're Slow and Save!" 
Just for fun, with your $20 credit, you could score a FREE gel mani in Huntington Beach or a FREE eye brow wax. Yep, the discounted rate at the select times is only $15, so you would have a $5 credit to use towards your next service. There are lots of fun opportunities like that on Unbooked Appointments where you could use your $20 credit.
Seriously – just sign up to get your $20 credit and browse around. You will be shocked at the deals!!!
How Do I Redeem My Service Coupon? 
What I love about Unbooked Appointments is the financial part is taken care of online so you don't have to pay onsite.
Once you find a service that you like, just select a date and time that works for you and purchase the appointment at a discount price.
Unbooked will send you reminders as the appointment gets closer and all you need to do is show up – the provider will be happily expecting you! No phone calls, no coupons, no hassles, just enjoyment.
$20 Credit for Tiny Oranges Readers
You Might Also Like