by jen
More Great Reads
Thursday May 7, 2015
see more by
jen

Links in this post are affiliate links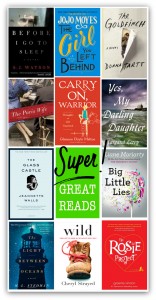 This post I wrote on 15 books you can't put down has been one of my most popular posts to date, and as an unexpected bonus, I have gotten over 228+ comments with readers leaving their OWN favorite books you can't put down.
Which is beyond awesome, because those comments are now my go-to list for book recommendations of books you can't put down.
There is nothing I love more than having a book so good I can't wait to pick it up again.
Since that first list, I have some read some more really great reads, most of which were reader recommendations, so I wanted to share a follow-up list for anytime that made it through the first one!
Great Reads – More Books You Can't Put Down 
1. Before I Go to Sleep
This book was SO GOOD. I love a good mystery and it leaves you guessing until the very end. It's about a woman with a rare case of amnesia who wakes up each morning with no memory. Nothing. She has no idea who she is, where she is or who she's sleeping next to. With the help of a journal she keeps secret from her husband, she is troubled by her own written words, "Don't Trust Ben" and she learns many things are not what she thought them to be.  It asks the question – who are we if we lost our collective memories and experiences? SO GOOD!!!!!! Read it!
2.The Girl You Left Behind
One of my favorite books from my first list is Me Before You
 by Jojo Moyes so I waned to give another one of her books a go.  I loved The Girl You Left Behind, not quite as much as Me Before You, because that one is hard to top but this one is also a great read. It's the story behind a 100-year-old painting and the love, loss and sacrifice behind the portrait of a beautiful young woman during World War I in Paris.
3. The Goldfinch
At over 700 pages, The Goldfinch is a commitment, especially for a busy mom, but it was so good I devoured every page.  It's the story of a 13-year-old boy who miraculously survives an accident that kills his mother, an event that seals his fate. The ending was so beautiful, my one regret is that I didn't read this book with a book club because there were so many themes to discuss.
4. The Paris Wife
Oh, how I loved this book, the story of Hadley Richardson and her love affair with Ernest Hemingway in Jazz Age Paris.  The author chose to write the novel in Hadley's voice after reading Hemingway's memoir, in the final pages, when he said of Hadley, "I wished I had died before I ever loved anyone but her." A delicious, and fascinating love story which will leave you wanting to know more about the life of Ernest Hemingway.
5. Carry On, Warrior: The Power of Embracing Your Messy, Beautiful Life
I am reading this book right now and it is SO poignant for anyone currently navigating the world of parenthood.  In a collection of essays written by Glennon Doyle Melton of Momastery.com, you will find yourself laughing at one, and crying at another. Her essays are raw, brave and real and will make you look at your own messy, beautiful life with an aura of newfound acceptance. Mamas, great read.
6. Yes, My Darling Daughter

Haunting. Yes, My Darling Daughter is the story of a single mom raising a sweet and bright daughter, Sylvie, who begins having unexplained tantrums and outbursts. As Sylvie starts to share chilling details of what seem to be past-life experiences, her mother reaches out to a professor in the paranormal for help.  Which ends up in a disturbing murder mystery. Page turner.
7. The Glass Castle: A Memoir
This book should have been on my first list, and when the first reader commented and mentioned it, I was like, OF COURSE! YES! I couldn't believe I forgot to include it. The Glass Castle is the most fascinating real life story of the author's dysfunctional family and her crazy experiences growing up. But even with the erratic behaviors of her parents, the drinking and the wanderlust, it's really a story of unconditional family love. Read this one!!!
8.Big Little Lies
I am absolutely in love with Liane Moriarty. What Alice Forgot
and The Husband's Secret
 have been two of my all-time favorite books, so I was VERY excited to see it was finally my turn after months on the library wait list (yes, I still read books from the library and intend to for as long as they are around!) to read Big Little Lies.  Readers commented and said they loved Big Little Lies even more than The Husband's Secret.  I have to disagree, I liked the former better, but Liane still writes an amazing story that you can't put down.
9. The Light Between Oceans
This is the story of a husband who takes a job as a lighthouse keeper on a remote island off of Australia, and his daring wife who agreed to go with him. Years later after miscarriages and a stillbirth, a baby washes up on the shore in a boat carrying a dead man.  Tom, the husband, wants to report the infant immediately, but Isabel, his wife, feels the baby is a gift from God, and claims the baby as her own.  When the baby is two they return to the mainland and are faced with the choices they made when they see the devastation it has caused others.  This book raised so many questions on morality, right and wrong, and will have you rooting for Isabel even though you know you shouldn't. Loved this book.
10. Wild: From Lost to Found on the Pacific Crest Trail
I never saw the movie with Reese Witherspoon because I was afraid it was going to ruin this book for me! Wild is the true story of a broken young woman who makes a crazy, and life changing decision to hike more than one thousand miles of the Pacific Crest Trail. Alone. First off, a physical feat of that magnitude is astounding to me, but even more so was the fact she did it ALONE. Her story of how this experience shaped and healed her is astonishing.
11.The Rosie Project
The main character in this book, Don, a quirky, socially-inept professor of genetics might be one of my favorite characters ever.  His actions are so wrong, but his heart is just so right.  The story revolves around Don's quest to find a wife, based on his orderly, scientific knowledge and the development of a 16 page survey to filter out potential mates. Rosie is quickly unqualified but as their friendship grows, Don realized sometimes you don't find love, it finds you. Adorable, feel good love story of the most quirky kind.
Please add your favorite great reads and books you can't put down in the comments! I need to keep the recommendations coming! Thank you!
You Might Also Like