by christy
Adorable Teacher Gift Ideas
Wednesday May 20, 2015
see more by
christy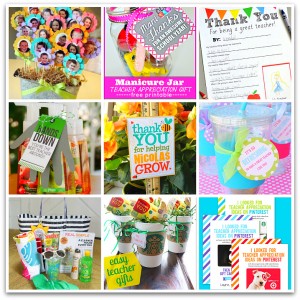 Okay mamas, we're in the home stretch.  You know what I'm talking about.  The beloved tradition of counting down the number of schools days left until…SUMMER!  We.are.so.close.  And it's not too early to start thinking about teacher gift ideas for the end of the year.  Because if you think we're tired…they have to be exhausted!!!  Let's show them our love and appreciation.
Recently our "Thanks for Helping Me Grow" end of the year succulent gift was featured in a round up of DIY Thank You Gifts for Teachers, so check out those cute ideas, and here are some more adorable end of year teacher gift ideas to celebrate your child's teachers this year.
End of Year Teacher Gift Ideas Round-Up
Picture Flower Bouquet
Idea and image found on www.mandydouglass.blogspot.com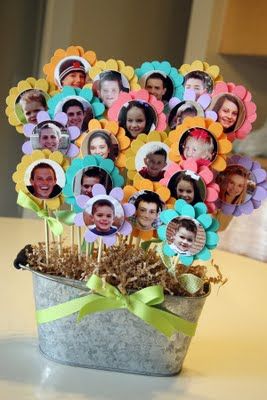 How darling is this?!  If you plan far enough in advance, you can ask each parent to bring in a small headshot picture of their child…or "sneak in" one day during class time and take individual pictures, then have them printed. What a fun and creative way to say thank you to your favorite teacher!

"Thank You Teacher" Free Printable
Idea and image found on www.thesuburbanmom.com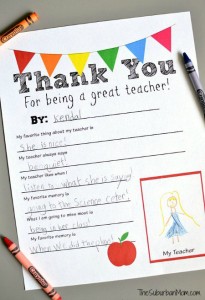 I just love this idea because it's such a cute keepsake.  You can have each child in class fill out this adorable free printable and have them either attach a picture…or draw one themselves.  Then have the printables bound or put in cute folder booklet.
Hands Down Teacher Appreciation Gift
Idea and image found on www.eighteen25.blogspot.com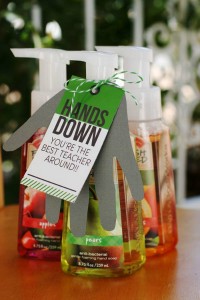 Sweet-smelling soap, a cute little gift tag, and your child's cut out handprint with their name.  Super simple, super cute, super sweet.
Summertime Basket
Idea and image found on www.beneathmyheart.net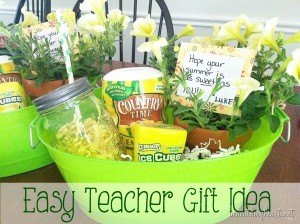 I love theme baskets, and I thought this one was really cute for summer. Doesn't it make you want to have a nice cold glass of lemonade?  Take a peek at all of the items, add your own, and personalize it to what you know your teacher will love and/or use.
Cute Cups and & Printable Tags
Idea and image found on www.crazylittleprojects.com
What I love about these super cute cups and tags?  They are summery, totally usable…and you can put just about any gift card, candy, bath salts, confetti, etc. that you want to jazz it up.  Voila!
Thank You for Helping Me Grow
Idea and image found on www.snippetsofcreations.blogspot.com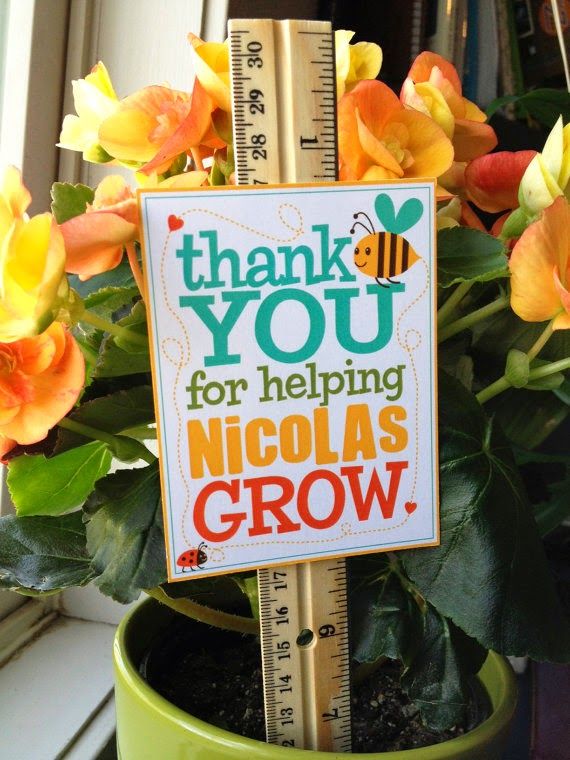 I know how much my teacher loves gardening, so this would be such a sweet gift for her. What a fun spin on giving a pretty bouquet of flowers.
Manicure Jar Teacher Appreciation Gift
Idea and image found on www.hip2save.com
Who doesn't love a mani?!  Such a cute mason jar idea, especially with the free printable tag to go with it.  A manicure in a jar!
Teacher Summer Relaxation Kit
Idea and image found on www.thedecorfix.com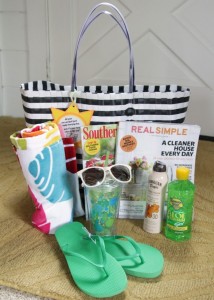 How charming is this?  You can "build" your teacher a beach or pool bag with all of her summer "relaxation essentials."  Lots of room to customize, depending on what your teacher likes.
Coffee Lovers Basket
Idea and image found on www.happyhomefairy.com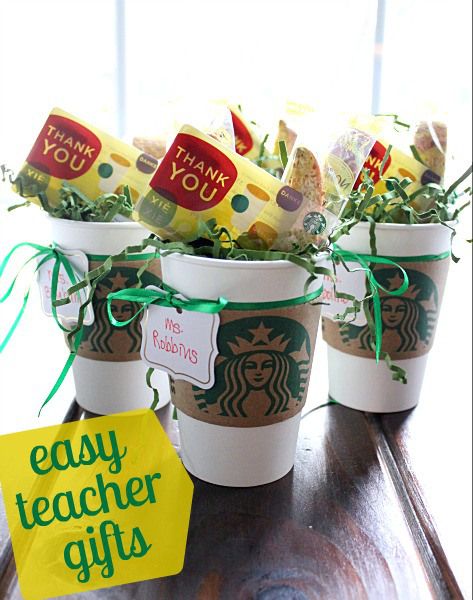 Ah, the best "go-to" gift in my opinion.  A Starbucks cards.  You can never go wrong with a Starbucks card!  And I love that the card "holder" is actually a Starbucks cup.  A clever and cute way to snazz up the gift presentation.
Free (Funny!) Teacher Appreciation Cards
Idea and image found on www.blog.chickabug.com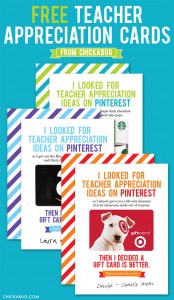 And finally…if Pinterest and crafty projects aren't your deal, take a look at these hilarious teacher appreciation cards on Chickabug!  Print 'em out, slap on a gift card, and you're good to go.  Done and done!
Do you have any fun or cute end of year gifts ideas to celebrate teachers?  If so, please share below!  And hang in there mamas (and teachers!), it's almost SUMMER!!!
You Might Also Like