by jen
Grilled Pork Chops with Mango Guacamole
Wednesday May 27, 2015
see more by
jen

This grilled pork chop recipe post is Sponsored by our friends at the National Pork Board to inspire ideas for yummy pork recipes.
Susanne had my family over for dinner recently and she made the most delectable grilled pork chop recipe I am ecstatic to share with you today.
The National Pork Board realized that we're in need of flavor-packed inspiration!  They're setting out to prove that getting bold flavor is as simple as choosing pork.  No matter what the grilling occasion is marked on your calendar, any cookout can use its amazing flavor.
A grilled pork chop is not only a leaner, healthier protein option, but also quite delicious.  Especially when you prepare using one of Susanne's original recipes. You just gotta try this recipe. Perfect for summer nights.
This meal inspired us to host a neighborhood party in a few weeks and "crash" the party and the 'cue with the unexpected – grilled pork chops. Isn't it fun to serve something a little different?  So my friends, allow me to introduce you to the party crashers…

So stay tuned for an upcoming post featuring another one of Susanne's original grilled pork chop recipes and a step-by-step run down on how we hosted a family get together and crashed the grill with pork chops.
Not only that, we will be running a giveaway including a Krogers/Ralphs gift card and grilling set so you can plan your own summer pork chop crash too!
Grilled Pork Chops with Mango Guacamole
Over Buttery Sautéed Bacon Corn
By Susanne Henderson 
This super simple marinade was my husband's Grandpa Leo's favorite way to make his pork chops, and we agree!  It imparts a delicious flavor to your pork chop every time.  Do not skip the corn, it complements your chop and is slightly addictive.  The Mango Guacamole adds a fresh summery flare making this recipe perfect for any summer grill out!
I shopped for my ingredients at my local Ralphs – my go-to grocery store for everything I need for a dinner party. I am a huge fan of their affordable Simple Truth organic and natural products and the Simple Truth Natural Pork Loin Chop Boneless they carry are the best!
Grilled Pork Chops

 
Soy Sauce Marinade:
9 boneless pork chops (1″ thick)
1/2 cup soy sauce
2 tablespoons garlic powder
Place pork chops in baking dish, cover with soy sauce and sprinkle thoroughly with garlic powder.  Let marinade for at least 30 mins at room temperature (turning once half way through) or up to 2 hours in the fridge.
Grill 3-4 mins per side over medium heat or until they reach an internal temperature of 145 degrees with a 3-minute rest time.
Mango Guacamole 
2 Mangos, diced
1/2 red Bell Pepper, seeded + diced
3 Green Onion, diced
2 large Avocados, diced
1/2 tsp minced fresh Ginger
1/2 tsp minced fresh Garlic
1 Lime, juiced
1/2 bunch Cilantro
1/4 tsp sesame oil
Salt + Pepper
Stir together all of the above ingredients and season with salt + pepper to taste.
Buttery Bacon Sautéed Corn
8 ears of Corn, cut fresh off the cob
6 pieces of thick Bacon, diced
4 cloves Garlic minced
1 tbsp Butter
1/4 cup fresh Basil, chopped
Salt + Pepper
Sauté the bacon in a large sauté pan over medium heat until golden brown, and remove the bacon from the pan and place on a plate lined with paper towel.
Remove all but 1 tablespoon of the bacon fat from the pan, then add 1 tablespoon butter and add garlic sautéing until fragrant.
Add the corn to the pan and stir frequently until just cooked through with a little bite to the texture. (This will require multiple tasting bites which you will enjoy).
Season liberally with salt + pepper to taste and finish with the fresh basil.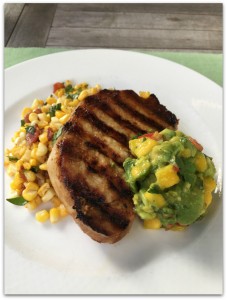 You would not BELIEVE the flavors of the pork chop when combined with the sweetness of the mango and the buttery goodness of the corn. Mouth-watering.
Once again, your own Grill Crashers party kit giveaway is coming up soon! Subscribe to our blog so you don't miss the post! Happy grilling!
You Might Also Like