by jen
Fundraise Smarter with SmartRaiser
Tuesday June 2, 2015
see more by
jen

How many of you are familiar with the credit card-sized, plastic community discount cards? For those not familiar, it's a card with reusable deal or promotion for card holders and groups sell the cards to raise money for their cause.
The concept is a great one, because who doesn't love a win-win? You feel good by supporting a local group and get to save money at local businesses, and the fundraising group makes money.
But there's always been one little problem with me. I have bought these cards over the years, but often don't take advantage of the deals on the card because the print is really small and I forget what's on there.
Or, even if I remember a company is on there, I often don't have the card on me. Frustrating. Which is why I think this company is SO brilliant!
SmartRaiser Mobile Discount Card 
Enter SmartRaiser, an Orange County based company that created an easy-to-use mobile discount card, where you always have your mobile discount card on you, because these days, no one goes anywhere without their phone!
SoCal moms and families with kids in groups that fundraise, you will want to run to get the SmartRaiser fundraising program started in your school or organization.
How it Works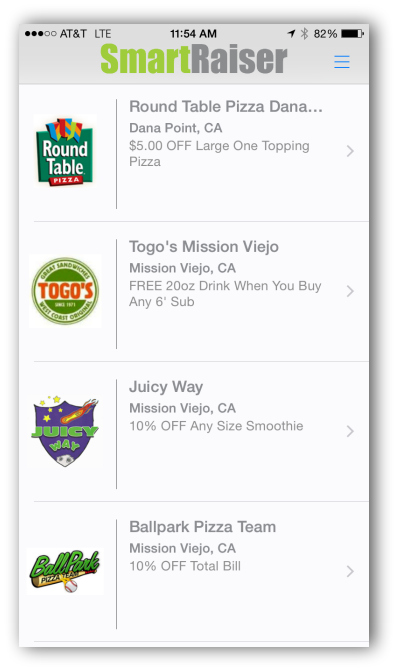 The SmartRaiser folks have canvased SoCal to get hundreds of deals groups can use to customize a card for their fundraiser.
In case you were wondering, there is no cost to the business. I personally love supporting my local businesses – especially when I know they are active in helping the community.
Each mobile discount card has on average around 50 reusable deals which groups can use to sell and raise money for their organization.
The mobile discount card sells for $20 for 12 months and out of that, the fundraising group makes 70%! The group will also make a percentage on renewals giving them the the opportunity for a continuous revenue stream.
How AWESOME is that?!
To make it even more personal, groups can brand their own mobile discount card.
For example, say your mascot is the Lion.  Your school could sell their own customized Lion Mobile Discount Card.
And since it is mobile, you can sell your card online, through social media and also in person.
It's a No Cost / No Risk Fundraiser 
SmartRaiser makes it free for a fundraising group to sign on to their program and there are no set-up fees or minimums to get started. Plus, since it is totally mobile, there are no costs for printing and no inventory to hold on to.  It's one of the truly risk free fundraising programs out there.
Never Forget to Use Your Discounts Again 
When users download the app, you can easily scroll through and check out the amazing deals. I love the clean and user-friendly interface.
After you purchase the mobile discount card, you simply show the deal screen at the business to redeem your savings over and over and over again for a whole entire year! 
Plus, your mobile discount card doesn't de-value over time, it is good for 12-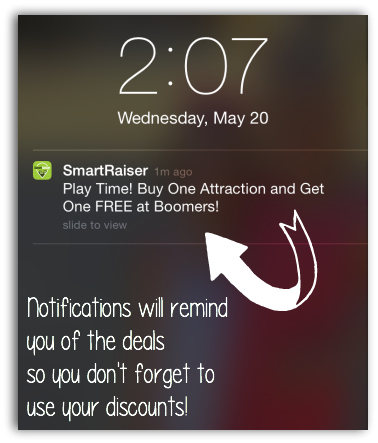 months from the date of activation.
Now I am going to get a little techie on you because I think this is one of the coolest features. The app puts a geofence around the business's location and a (not annoying) reminder will pop up on your phone when you are near or in the location reminding you of the deal!
Do you want 

to

 

implement

 this risk free 

fundraiser? 



If you are involved in a group that has a fundraising need and are interested in learning more about how you can get your group's own customized mobile discount card to sell to raise money contact:
Jim Shirley
Vice President
jimshirley @ smartraiser.com
949-300-7528
If you own a Southern California business and would like the opportunity to discuss featuring a special deal or promotion on SmartRaiser to help local groups raise money contact:
Ryan Oriza
Account Executive
ryanoriza @ smartraiser.com
949-375-1303
Don't fundraise harder. Fundraise Smarter.
Visit www.SmartRaiser.com to learn more!
You Might Also Like