by christy
A Fun Activity at Home for Little Kids
Friday June 26, 2015
see more by
christy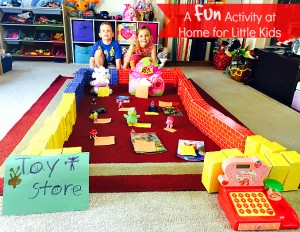 Today, I'd like to share a fun activity at home for little kids this summer…because as much as I love to be an on-the-go mama, with on-the-go kids, sometimes it's nice to just be at home and enjoy some downtime (especially in the afternoon when it is so HOT to play outside!).
On the flip side, I can only play Legos or My Little Ponies so much before my eye starts to twitch (just keepin' it real, moms!).  Which means that I am constantly trying to invent (or have the kids invent and create) fun indoor games to play…and if I can get some stealthy learning lessons in there, I will!  Here's what I call the "Toy Store" game…and it kept them busy for at least two hours!
Prep work
First, I explained that we were going to make a toy store in our playroom – you can pretty much make up any kind of store, but we liked the idea of a toy store the best.  I thought if we played grocery store, they may eat all the "merchandise" before the game even began – lol!
I asked them each to pick seven toys (you can choose any number you want) and set them aside.
"Build" your toy store
Next, I gave them the task of "building" their store.  We have these large play "bricks," which worked perfectly, but let their imaginations take over.  Part of the fun is letting them create this space!  Get out blankets, blocks, fabric boxes, let them move kid furniture around…whatever they want to do.  My one rule – they had to work together as a team.
Pricing
Then, I had them work on price tags. Here's where you can sneak in a math lesson and work on fine motor skills.  Each of my kiddos have different things they need to practice, so I assigned each kid a job.  My 5-year-old had to trace rectangles (to immulate price tags) and then carefully cut them out. Next, my 7-year-old assigned each price tag a different monetary value.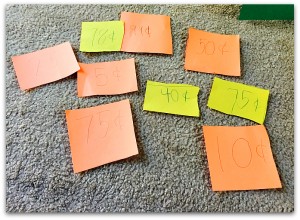 Raid your piggy bank
Here's my kids' favorite part – I had them dump out their piggy banks and put handfuls of real money in little ziplock bags. I had them each categorize pennies, nickels, dimes, and quarters – then pick them up (a great fine motor building activity!) and put them in their ziplocks.  They thought they were rich!
Set-up your store
Here's when we put the final touches on their "store."  I had them place each of their chosen toys in the store space, and then assign each toy a price tag.  Just for fun, I threw in a handful of Dollar Store toys so they had some cool, new things to "buy."  They were thrilled!
Time to shop!
And, finally…it's shopping time!  They could each pick out one toy at a time to "buy," and they brought me (their trusty cashier) the toy and the price tag.  Then, they had to count out the exact change to purchase the item. This was awesome for so many reasons – they practiced counting, money denominations, how they could reach a certain price several different ways (depending on their available coins), adding, subtracting – the math lessons rocked in this game!  Here's a picture of each of my kiddies, deep in thought (and counting).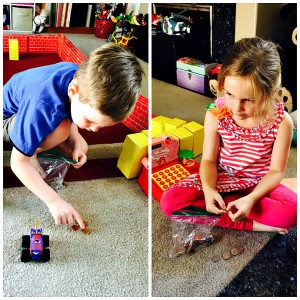 Overall, this was a really fun game that both kids enjoyed…and like I said, it took a good two hours! They worked as a team, used their creativity, practiced math, and even got to "buy" some new toys.  They loved it, and asked if we could play "toy store" everyday.  This is a huge compliment coming from them (even though they had already moved on by the next day – lol!).
You Might Also Like