by jen
MOMS Orange County
Monday June 29, 2015
see more by
jen

[Sponsor]

"We believe every baby deserves the chance to be born healthy." – MOMS Orange County CEO Pamela Pimentel, RN
Local nonprofit, MOMS Orange County is changing lives – those  of the born and unborn by giving families the resources, information and support they need for the healthiest pregnancy possible.
The Importance of Prenatal Care
Many of us were likely over informed on every aspect of our pregnancy.
We read up and studied every topic having to do with pregnancy.  We knew the importance of prenatal vitamins. We had supportive partners that attended lamaze classes. We anxiously awaited every doctor's appointment to learn more. We avoided sushi and pasteurized cheese. We did kick counts. We knew about proper nutrition.
For those fortunate women like me, our pregnancy was set up for success to give our babies the best chance for a healthy delivery.
But for many women, right here in Orange County, that is not the case.
Many women in low income communities are at-risk for unhealthy pregnancies because they don't have access to prenatal care, or even know where to go to get the care they need during their pregnancy.  These women might not have easy access to a computer to read up on pregnancy information. Many are in abusive relationships and don't have supportive partners. Often their living situations are overcrowded and stressful. Or, they are isolated by a lack of transportation.
MOMS Orange County gives these women hope. 
I had the opportunity to tour the MOMS Orange County facility in Santa Ana last week and I was touched beyond words by the work they are doing for these women and their families.
MOMS Orange County provides services to more than 3,500+ pregnant women annually in underserved communities at no cost.
If a woman does not have the means, but is motivated to participate in their programs, MOMS Orange County will support them during every stage of pregnancy and throughout their baby's first year.
Services include in-home visits, access to prenatal care, referrals, health and developmental screenings, education, classes and workshops to educate moms on all aspects of pregnancy and parenthood.
Breaking the Cycle 
An involved dad is important to the overall health and well being of the family.
MOMS Orange County believes and research shows children with involved, caring fathers have better emotional outcomes, higher IQs, better linguistic and cognitive capabilities. They are often also more emotionally secure, confident and have better social connections.
But many MOMS Orange County families are Latino and come from a culture where traditionally the fathers are not involved in pregnancy and child rearing.
Juan Diego, the Director of Health Education at MOMS Orange County, works with dads to break this cycle and teach them the importance of bonding with their baby.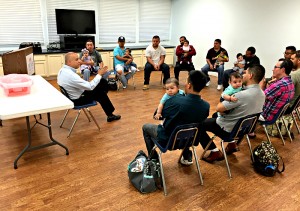 He estimates up to 90% of the dads-to-be he works with had poor emotional connections and relationships with their own father.
He wants to change that, and these dads do too. They want to be better fathers to their own children and better partners to their wives, but many don't know how.  He gives them the education and encouragement needed to do so.
Workshop for New Fathers 
Juan Diego (incidentally the only male employee!) leads a Workshop for New Fathers in Spanish which focuses on giving men the tools and information to inspire them to be involved when their babies arrive.
The dads are able to ask questions and learn in a supportive environment.
I had the opportunity to witness one of these workshops in person and it almost brought tears to my eyes.  To see the dads holding babies, and the way the babies interacted and looked at them said it all. Total adoration.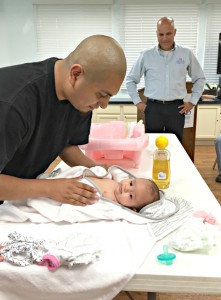 In the Workshop, Juan Diego stresses the importance of their role, and covers the topics of infant safety, diapering, burping, swaddling, feeding, holding, soothing, and bathing their new babies.
Here he is giving a demonstration on the importance of never shaking a baby or playing too rough.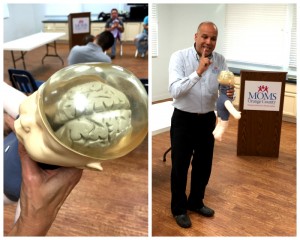 Perhaps though one of my favorite parts of this workshop was watching the dads talking together in small groups holding infants.  As moms, we have so many opportunities to talk with other parents. Many times the dads don't have the same opportunities.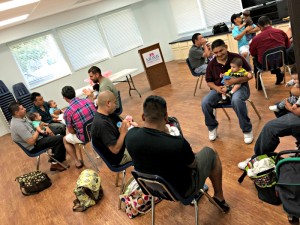 The MOMS Orange County Difference  
The positive difference MOMS Orange County is making in women's lives can be measured in more ways than solely the words of love and appreciation shown by their families, their results are trackable.
Of infants born to mothers in MOMS Orange County's in-home Maternal Child Health Coordination program:
85% reach a gestational age of 37+ weeks, have a healthy birth weight and spend no time in the NICU
92.5% of babies are on track for achievement of developmental milestones
97% on on track with their immunizations
It's a beautiful thing.
Get Involved  
To learn more about MOMS Orange County, visit www.momsorangecounty.org.
Hooray! It's a Tiny Giveaway! 
In celebration of all dads and dads-to-be, MOMS Orange County is generously giving away a $300 gift certificate to www.fodada.com. Good luck!!
You Might Also Like