by jen
Shindigz
Monday July 13, 2015
see more by
jen

[Sponsor]
Shindigz personalized party supplies is a company that wants to make your life easier.  They know how busy moms are and want to give you truly, a one-stop-shop for affordable (and also adorable) party supplies – everything you need for your next celebration.  Read on mamas, because I also have an exclusive Shindigz coupon code for free shipping to share with my readers!
For three weeks every June our household is one big non-stop celebration.  To kick off the party season, we have my oldest daughter's birthday, then my husband's, then Father's Day, then my youngest daughter's birthday all within 21 days.  Some years we will also have graduations mixed in. Oh my.
This year we had a particularly busy party season due to a home renovation project I am up to my ears in, so when Shindigz personalized party supplies contacted us about partnering on a blog post, the timing couldn't have been better. My little one's birthday was right around the corner and I had not done a thing for it!
I planned her birthday party at a venue where the food and beverages were included, so all I needed were my birthday party supplies.  Shindigz was the perfect site to get all of our party supplies. In fact, I was able to get everything I needed for our party without leaving my house! 
Rain

bow
Birth
day
Party
Theme
I went on Shindigz and started looking at their adorable birthday party themes for kids and even though it was hard to pick one, these personalized rainbow birthday plates had me at first click.
As I started navigating through the options for a Rainbow birthday party theme, I was able to pick and choose from different patterns to put together a VERY cute table!
I am always a fan of the personalized water bottle stickers, and loved being able to personalize these with a festive, "Morgan is 6!"  Even better, when they arrived, I gave my oldest daughter the task of putting them all on (that easy!)
Because the plates were so colorful and festive, I went with solid colors for the table cover, napkins and plastic ware forks. And then I spotted the best thing ever…
They even carry party favors!
I love giving a non-candy favor and my girls love crafts so I was elated to find these rainbow with clouds sun catchers. Score! To make it even that much cuter, I got personalized rainbow party favor stickers to match.
And again, I gave little one the job of sticking them on the favors to save time.
In the end I was able to order the table covers, napkins, forks, plates, water bottle stickers, table top decor, party favors and party favor stickers ALL WITHOUT LEAVING MY HOUSE!
No joke, this was my easiest party EVER!
Easy Funfetti Cake Recipe
Now that the venue was set, and party supplies were ordered, there was just one thing that needed to be taken care of –  the cake.
Sticking with the rainbow theme, I felt inspired to bring a  funfetti cake. Then I had a momentary lapse of sanity and thought, maybe I will ditch the box and attempt to make one on my own? For me, that is big. I am not a baker.
I found this easy funfetti cake recipe on Pinterest of course, and gave it a go.
And dare I say it actually turned out and was delicious?! Baking victory!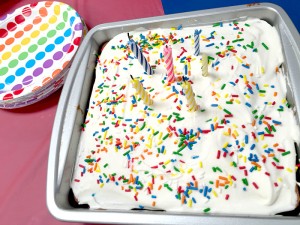 Shindigz made party planning so easy I was able to focus on other things, like having fun, versus running around trying to get everything ready.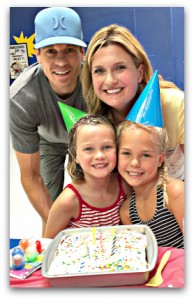 My daughter had a rainbow-tacular 6th birthday!
Thank you, Shindigz for making it so special!
Shindigz Coupon Code 
Woot! Woot! For our Tiny Oranges readers, Shingdigz is extending a Free Shipping Promo Code for Orders Over $69 CODE: SHINDIGZ69
*To Receive Free Shipping on orders over $69, use Shindigz promotion code SHINDIGZ69 during checkout.
Discount applies to ground shipping orders being shipped within the contiguous United States only.
Cannot be used on previous orders or combined with any other offer.
Discount does not apply to customs, duties, or delivery surcharges. Offer expires on 10/1/2015 at 11:59 PM EST.
You Might Also Like