by christy
Things to Do Before Baby Arrives Checklist
Tuesday July 21, 2015
see more by
christy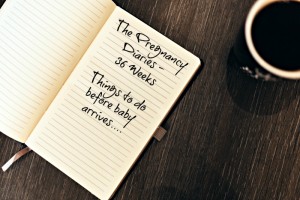 The Pregnancy Diaries…
The third trimester. UGH.  The THIRD trimester.  All of you mamas know what I'm talking about. The trimester that seems to last 3,000 days.  And here I am, smack dab in the middle of it – 36 weeks and counting – which inspired this things to do before baby arrives checklist post!
There's something about hitting that 36th week that inspires major excitement (and minor panic) – baby is coming – SOON!!!!
Which means there are lots of things to do before baby arrives. Gulp.
Whether it's your first or third, there is always SO much to be done to prepare.  We've already talked about that crazy little phenomenon called "pregnancy brain," right?  So this is why lists are so important to me…and most pregnant moms I know.
Whenever I feel myself getting overwhelmed at how much still needs to be done before baby girl comes, I make a checklist.  On the flip side, these lists you make can also cause you to feel overwhelmed, so try to take your to-do tasks in stride, and ask for help when you can! Here is my things to do before baby arrives checklist. If you have anything to add, please comment below!
Things to Do Before Baby Arrives Checklist
1. Finish the baby's room.
2. Buy any other baby items you may still need.
3. Decide on cord blood banking and initiate the process, if you decide to do it.
4. Make sure the baby's car seat is assembled and cleaned, and practice installing.
5. For that matter, install any other mandatory baby item that may need more attention that just washing and folding.
6. If you are going to give sibling gifts (from the baby to the big kids), buy and wrap with a card.
7. If you plan to order a breast pump through your insurance company, call and get the information – order (many insurances now cover breast pumps!).
8. Research and purchase nursing bras, if you are planning to nurse.
9. Wash newborn clothing, blankets, sheets, liners, changing pad covers, etc.
10. Finish any baby gift thank-you notes to friends and family.
11. If you plan to take professional newborn pictures, research photographer options and prices, and make a tentative appointment.
12. If you plan to send birth announcements, pick out the baby announcement design you like, budget for it, and draft your wording – so that when baby is here and you're sleep deprived and recovering, you already have your card picked out (and you just have to insert the birthday, weight and length).
13. Educate yourself on your company's policies for maternity leave, meet with HR, fill out any necessary maternity leave paperwork in advance, discuss your plans with your boss, and get as organized as possible (especially for when you are absent).
14. Look up your medical insurance information and make sure you are educated about when you sign up baby for insurance (and the timeframe you have to do so).
15. Fill out any hospital/birthing center paperwork you can, in advance, and send it in.
16. Discuss any questions you have regarding your ideal birth experience with your doctor or midwife, and finalize your ideal birth plan.
17. Talk to your close family and/or friends about how they can best support you during and after you give birth – i.e. have you and your spouse/partner decided if you'd like people at the hospital? Are you up for guests at your house after you get home (to visit the baby)?  Will you need help with meals? Your big kids?
18. Pack your hospital bag.
19. Make (or confirm) any final childcare arrangements for the big kid(s) while you're giving birth.
20. Stockpile diapers!
21. Breathe!
Any other mamas out there want to chime in?  Any things to do before baby arrives items I missed? Please comment below!
You Might Also Like