by jen
reCAP lids are reALLY reMARKABLE
Thursday July 23, 2015
see more by
jen

Every day I get lots of emails from companies and PR agencies showcasing products products moms might like. Because of the volume of emails, it's hard to be able to investigate every one, but the email I got telling me about reCAP mason jar lids stopped me in my tracks – brilliant. 
In a nutshell, reCAP lids are universal pourable mason jar lids and caps that fit any mason jar so you can reuse your beautiful jars in a gazillion new ways.
I told them I would be interested in getting some samples to see if they were as awesome as they looked so they sent me a few to try.
When I feature products on Tiny Oranges, I have to really love it.  Enough to feel compelled to want to share with my girlfriends (and I consider my readers my girlfriends). So let me tell you how much I love this product.
The pourable mason jar lids are perfect for smoothies, protein shakes, my cucumber water and also homemade salad dressings.  You can shake it, pour it, drink from it, what have you.
Here are my two favorite everyday uses for my reCAP pour caps (click here to get the how-to on the amazing homemade salad dressing recipe.)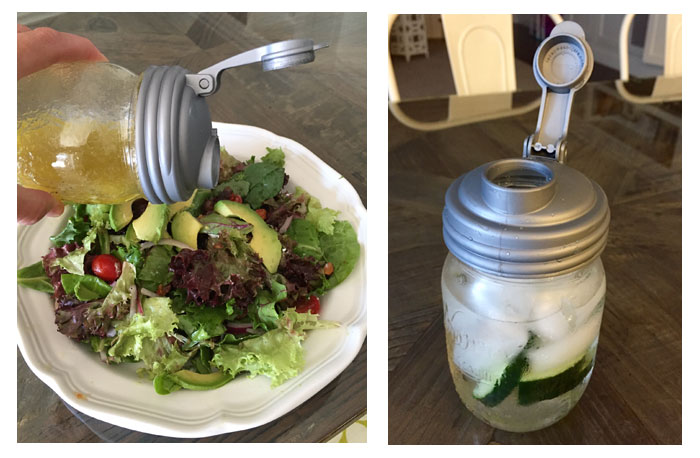 reCAP also carries flip lids which make the jars perfect for storage, snacks, really anything and Adapta caps which have sprayers and pumps for cleaning or beauty products.
And for anyone who loves Classico Italian sauces like we do, the 24 oz mason jars the sauces come in are the perfect container to reUSE with your reCAP products.  If you are inspired to share your ideas on how you reUSE your Classico jars with reCAP lids, tag them on social media with #ClassicoMakeItYourOwn!
Or share any of the ways you reUSE your mason jars using hashtag #WhatWillYouReCap!
You Might Also Like