by jen
Golden Tote On Sale Tomorrow!
Sunday August 2, 2015
see more by
jen

Links to Golden Tote in this post are referral links, meaning I get a little credit of you click through and order a tote. Thank you in advance for supporting my Golden Tote obsession. My husband thanks you too.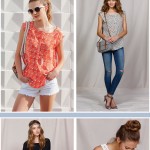 This might sound crazy, but I really hate to shop. Taking the time to go into the stores, digging through racks while trying to hold complaining kids at bay is honestly not my idea of fun. Which is why I am obsessed with Golden Tote, because they do the shopping FOR you!
I get more compliments on my Golden Tote pieces more than any other item of clothing in my closet. Things I wouldn't have thought to try on, but end up loving. Cute, hip, stylish pieces that put a little extra pep in my mom step.
It's very easy. Here's the run down.
1. The totes go on sale the first Monday of every month at 9am PST at www.goldentote.com. Set a reminder in your calendar to ping you and remind you to go online and order yours, because the very cutest pieces can sell out, quick. Shopping early ensures the best selection.
2. There are two totes to chose from – a $49 one with 2 – 3 pieces or a $149 with 5 – 6 pieces. If you can swing it, go for the $149 one because you will be amazed at the number of cute things you will get.
3. In your tote, you will be prompted to pick 1 or 2 items you want. Then, Golden Tote surprises you with the rest! It's like Christmas in August when that box arrives.
4. Finally, you will create a style profile with your height, body type, likes, dislikes, styles you love, etc. which helps match your Tote to your style.
I am sure you are wondering what happens if you don't like something or it doesn't fit?
It's an all or nothing deal. You can return the entire tote for a full refund, but you can't return individual pieces. There is although, a private group on facebook.com/groups/Goldentotetrades where you can buy, sell or trade pieces that you don't want.
When I get my totes, I usually end up loving say, 5 out of the 6 pieces, and the one I don't, I will give to a friend. But for the price, it's totally worth it for the 5 pieces I wear all of the time.
Try it. You will love it!
You Might Also Like