by jen
Not Scary Movies for Kids
Tuesday August 4, 2015
see more by
jen

Not Scary Movies for Kids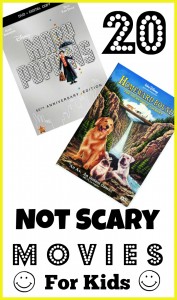 (Links in post are Amazon Affiliate Links)
Last week I went out to dinner with five of my class of '92 high school girlfriends I hadn't seen in years.  Old photos were passed around and we laughed our you know whats off at the styles back then. I think the shoes were the most offensive – does anyone remember Reebok high tops with big scrunch socks?!  How on earth was that ever considered cute? Wow.
We had four hours to catch up and many parenting topics arose, which gives me endless parenting blog fodder. I love it.
This post was inspired when a friend mentioned her kids are so sensitive to "scary" stuff, that she has been forced over the years to find not scary movies for kids her family could watch together.
Of course, what scares a kid can differ from child to child, so these movies listed below are not necessarily scare-proof. However, a great way to check out the details on a movie before you watch it with your kids is www.commonsensemedia.org. The age recommendations for the movies below were taken from that site.
You simply plug in the movie and you can get the full rundown of the story line and ratings on things such as educational value, positive messaging, violence & scariness, and more.
Please add any not scary movies for kids you have discovered in the comments. Would love to keep this list going!
20 Not Scary Movies for Kids 
1. Winnie the Pooh Movies (ages 3+)

2. The Aristocats (ages 4+)

3. Tinker Bell (ages 4+)

4. Sesame Street: Follow That Bird (ages 4+)

5. My Neighbor Totoro (ages 5+)

6. Dr. Seuss' The Lorax (ages 5+)

7. The Sword in the Stone (ages 5+)

8. The Mouse and the Motorcycle (ages 5+)

9. Kiki's Delivery Service (ages 5+)

10. Homeward Bound (ages 6+)

My friend's recommendations (geared towards older children):
11. Mary Poppins (ages 6 +)

12. The Sound of Music (ages 6 +)

13. Shirley Temple movies (Curly Top, The Little Princess, Heidi and Rebecca of Sunnybrook Farm were her favorites – ages 6+)

14. The Parent Trap (original version – ages 6+)

15. Charlotte's Web (1973 older cartoon version – ages 5 +)


16. Doctor Doolittle (original version – ages 5+)
17. Seven Brides for Seven Brothers (ages 6+)

18. Oklahoma (ages 8 +)
19. Singin' in the Rain (ages 6+)


20. American Girl Movies (average age 6+ but check each movie individually for age rec)
Please add to this list in the comments with your "not scary movies for kids" recommendations…
You Might Also Like