by jen
10 Favorite Memories of High School Summers
Wednesday August 12, 2015
see more by
jen

I had a mini reunion with 5 high school girlfriends last week and it brought back so many high school summer memories circa '88-'92.
It was a life without the internet, laptops or cell phones. Which made me wonder, what did we do!?  Worked on our tans, of course. Oh Lord.
Looking back here are 10 of my favorite memories from my high school summers, I would love to hear some of yours.
Top 10 High School Summer Memories 
1. Driving to Blockbuster on warm nights to rent a movie with friends.
2. Daring my friends to ask the cute lifeguard what time it is. Which would never fly now days with cell phones.
3. Beach bonfires.
4. Taking the bus to Huntington Beach and getting strips with cheese at the snack bar (photo below found here).

5. Rocking my high waisted neon bikini and these….
6. Sleeping until 11:00am.
7. Laying on the beach with my pastel ghetto blaster waiting for my favorite song to come up and frantically hitting record. I had this exact one!!!! —>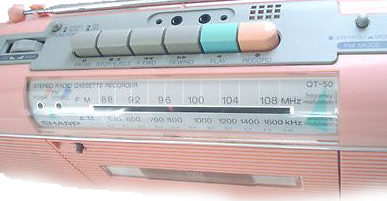 8. Driving around in my friend's convertible listening to "He's a Cold Hearted Snake"
9 Foster's Freeze Chocolate Dipped cones
10. And of course…Sun-In. The blonder, the tanner, the better.

I would love to hear your high school summer memories!! Please do comment below…
You Might Also Like