by jen
Goodness on the Go
Monday August 17, 2015
see more by
jen

[Disclosure: This post is sponsored by GoGo squeeZ]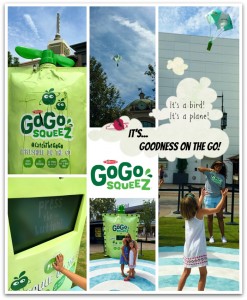 Earlier this month the girls and I took a field trip up to The Grove in Los Angeles to visit the Goodness Machine by GoGo squeeZ.
What exactly is a Goodness Machine you ask? Mamas, let me tell you, it was a sight to behold!
Designed by a former NASA engineer, the pop-up Goodness Machine was a GIANT GoGo squeeZ applesauce pouch that deployed GoGo squeeZ applesauce pouches into the air which then parachuted down into the hands of kids waiting to #CatchtheGoGo.
My girls' eyes were as big as the Goodness Machine when they saw the set-up and couldn't wait to try it so we waited our turn to step onto the bright turquoise and white striped bullseye rug to catch some goodness on the go!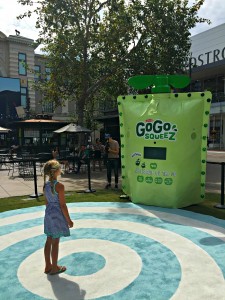 The girls ran up, pressed the button and waited, watching the GoGo squeeZ's "even kids can open it themselves" helicopter top, and WHOOSH! out it flew, into the air, the  parachute deployed as it flew down with the little ones hoping to catch it.
The wind made it an extra fun challenge, as you never knew exactly which way the GoGo was going to fly! We got to take a few tries and had some successful catches of the GoGo!
Below are two favorite photos of my  girls and our two friends that joined us that day. (Photo credit shout out to my talented friend Jolie Loeb who you can find here and here.)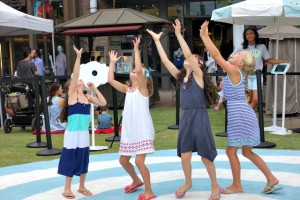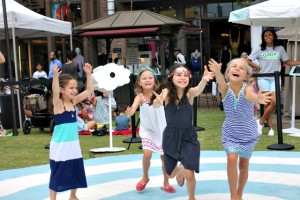 Such a fun day!
Thank you GoGo squeeeZ for inviting us to attend your darling event!
About GoGo squeeZ
Realizing moms everywhere want healthy snacks for their kids they can grab and go, GoGo squeeZ created healthy applesauce pouches that are the first squeezable, re-sealable, 100% fruit pouch on the market.  Essentially, the perfect addition to diaper bags and purses everywhere.
Offering a ton of different yummy flavors to keep your little ones happy, all pouches are 100% natural, Kosher, BPA-free, gluten-free, vegan, and are non-GMO certified.
Now that's what I call an AWESOMEsauce that makes any mom feel good.
Click here to shop online or find out where to buy at a store near you.
You Might Also Like