by jen
What's Going On Over Here
Wednesday September 30, 2015
see more by
jen

For those that might have missed it, I shared here about my mom's recent pancreatic cancer diagnosis, which turned our worlds upside down.
The day before yesterday I joined a group of my mom's best girlfriends for a belated birthday / pre-starting chemo luncheon for her.  This circle of women have known each other since childhood and are still the best of friends.  They care so deeply about each other and their families. They even follow my blog (bless them!)
One of her friends said to me at lunch, "Jen, I think I have to resubscribe to your blog because I am not getting your posts?"
To which I had to tell her, "That's because there haven't been any!"
HELLO. I realized I hadn't written a post about why or what was going on over at Tiny Oranges. Here is that post.
When mom my got sick things what was important in my life came very clearly into focus. Namely, God +  family +  friendship + human connections.  
Since August 18th, I have devoted, willingly and gratefully, most of my "free" time away from kids to my mom and dad and her path to healing.
These days when my kids are in school I am care taking, researching, going to doctors appointments, connecting with others that have faced or are facing pancreatic cancer to learn from their journeys, fundraising for pancreatic cancer through Team Julie, morale boosting, praying and connecting with people. For being such a horrible situation, it has also been really enlightening, the way it prioritized things for me.
One of the pancreatic survivors we have met told my mom, "You will be in awe of the blessings you'll experience in this most unwanted journey."  
I think that sentence sums it up just perfectly.  I wish it wasn't under these circumstances, but sometimes unwanted journeys do also bring some of life's biggest blessings.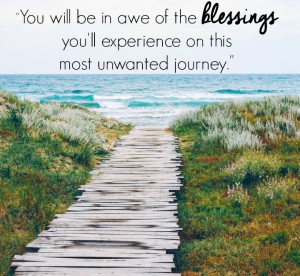 Tiny Oranges is NOT going anywhere – it just has to take a back seat for a little while.
I am so blessed to have a work scenario which affords me the opportunity to step away for a period of time and be able to return. I will always return. Tiny Oranges is a part of me.  But for now, I need to focus on my family, and if time allows and I can fit in posts here and there, I will do so.
Please don't leave me – I am still here – please sign up for the emails so when I do post you know when I am writing again.
In the meantime, thank you for your support and understanding.
Also, if you are free 11/14/15 to come join us in Irvine to support Team Julie and the Pancreatic Cancer Action Network at the PurpleStride event, I would be so humbled and grateful. Click here to join our team (top right) or click here to make a donation to my page.
I love you all – hang tight – until next time!  And please send up some prayers for my mom Julie!
xo
Jen
You Might Also Like