by jen
jeans | and | a | T
Wednesday October 21, 2015
see more by
jen

Do you think a personal stylist is a luxury or reserved for those with huge budgets? Think again! 
Affordable Orange County personal stylist, Jen, of  jeans | and | a | T makes personal styling accessible to moms like us who want to feel cute and confident in our every day lives – without breaking the bank. In fact, Jen can take you shopping right in your own closet and put together outfits you didn't even know you had!
Jen believes style should be available to all budgets, sizes and needs. "I really want women (whether a full time working mama or a stay at home mom), to feel confident in what they wear every day."
Whether you need to rock an outfit for the carpool, office or date night, she'll help you put together outfits to put a little extra spring in your step and sparkle in your eye.
Susanne and I recently got to experience a personal styling session with Jen to do a closet detox and styling session. Here is how it all went down…
Susanne's Closet Detox + Styling Session
My friend Jen has effortless style. She always looks so put together, mixes pattern and color in the most unexpected ways, is ahead of the trends, and rocks a little bit of edge in a classy way.  She is a style maven.
In her own words:
"Fashion is my vacation. It can enable anyone to express themselves in many different ways and that's what I love most about it. Each year my style evolves and fine tunes. Here I am, 40 (!) and fashion continues to inspire me. I love it. All of it. And I want to share my love for fashion with those around me! And the name…who doesn't love a great pair of jeans and a T? It has been and always will be a vision of effortless class and simple style."
I love clothes.  Like, I love them a lot.  I've accumulated quite a bit of stuff over the years and I'm not the best at weeding out, so I had a pretty full closet.  Being that I just had my 3rd and final babe and I'm transitioning back to my normal self again I was ready to purge.
I chose The Fashion Fix package which included:
– > Style survey which was completed before first consultation
– > Full closet detox, a review of each item (clothing + accessories) in closet, to be divided into three categories: keepers, tailor-bound, or charity bound
– > Styling of 4-6 outfits within your current wardrobe
– > Disposal of all unwanted items (transportation to local charity)
– > Unlimited access to stylist via text for two months regarding fashion advice, style ideas or just simply what to wear on a Friday night!
– > List of 5 new items needed to round out newly edited wardrobe.  Suggested items provided via Pinterest, Polyvore, etc. to help achieve style ambition!
With Jen's help I gave away 2 full trash bags, not including the maternity items I had already pulled!  It feels so good to have my closet streamlined.  It was so wonderful to have someone give me an honest opinion as to what worked on me, what doesn't, what's dated and what had seen better days.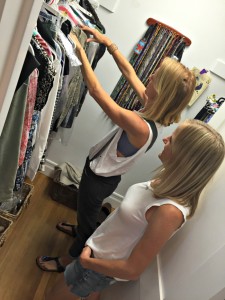 Jen took a few items I love in my closet that just weren't working and told me how I could tailor them to bring them back to life.  Taking account my height and shape she suggested turning a maxi skirt into a "midi" and a knee length skirt I'm going to have made into a mini.  I've held onto these two skirts without a single wear for years because I love the prints- can't wait to have them back in the mix!
She created outfits out of my clothes I would have NEVER thought to put together that work.
Pulling items I would have considered purging and she made me love them again.  This skirt I actually bought for a neon theme party and she loved it so much she styled an outfit around it!
Having a stylist on speed dial is also REALLY helpful… I was in a crunch with an outfit the other day and texted Jen for advice, I needed a sweater option.  The dress was a navy and cream stripe and I was wearing a bold turquoise and yellow necklace.  She pointed me in the right direction telling me jewel tones were my friend when I thought I would have had to go with a muted neutral.
Jen took notes as we were moving through my closet and she's going to send me items she thinks would be good additions to my closet to fill the holes in my wardrobe.  I am very excited for this part of the process!
Here are a few more of the looks she styled for me that day…
If you have a life event coming up like a high school reunion, major birthday, important work event, baby shower, etc. I highly recommend having Jen come out and style you pretty!
My Closet Detox + Styling Session

 
What I loved most about Jen was her honesty. 
There were so many pieces cluttering my closet I never wear because I don't feel good in them. We went item by item and I could tell just by her face if it was a "please let this go" or "we can work with this!" piece.  Of the ones I didn't feel good in, she confirmed I made the right choice when I admitted it was time to say good-bye.
And some things surprised me!
Like this Gap dress that is over  5 years old.  I haven't been wearing it because I know how long I have had it. But what was old can be made NEW again.  Look at the belt she put with it! Never in a million years would I have thought of putting that belt on that dress. But it works!
I also loved being able to ask her HOW to style certain pieces.  I am obsessed with Golden Tote (affiliate link) and many of my pieces are G.T. ones I wear all the time. However, every now and then I get pieces I like but just don't know how to wear.
Case in point, this long sleeveless sweater.  Not a problem for Jen, she showed me exactly how to wear it! I love this outfit, one of my new favorites I never knew I had in my closet!
As we were going through my accessories, Jen eyed one particular scarf and got a little twinkle in her eye. "I love this." she said.
I was assuming she would put it on me like I had been wearing it – as a scarf around my neck – but no! To my amazement she made it into a wrap skirt, belted it and paired with a cropped denim jacket into a look I just love!
Affordable Orange County Personal Stylist
There are many personal stylists out there so I wanted I asked Jen from her perspective what makes jeans | and | a | T unique.
"I work with most any price point and I'm honest. So many people look at styling as a luxury service – and while I do have certain requirements as far as budget is concerned, I think it's a lot less then most people expect. Second, I'm honest. I tell it like it is. If I don't like something in your closet (whether brand new-or 4 years old-$20 or $400 – I'll tell ya.) That's what I'm  here for! Clients appreciate that and love the streamlined closet they walk into days after I visit. I'm also always available…in a pinch on a Friday night? – shoot me a photo and I'll lead you in the right direction! Availability, accessibility and honesty – that's what makes me tick."
To learn more and following Jen on Social Media visit:
@jeans_and_a_t on Instagram.
You Might Also Like