by jen
Minted Foil-Pressed Promo
Tuesday November 10, 2015
see more by
jen

Disclosure: Affiliate Links are Used in this Post. Thank you! 
Did you know you can save a lot of money by placing your holiday card order early?  Even better, wouldn't it be lovely to get your cards done and ready by December 1?
If you are in the mood to check your holiday card order off the list this month before it gets completely cray-cray, Minted is running a special promo through 11/16/15 where you can get 20% off all Minted foil-pressed products including their holiday cards and custom art. Simply use Minted promo code FOIL at check out.
Make Your Cards Sparkle with Foil 
Minted's foil-pressed cards are simply swoon worthy.  With different foil choices like gold, rose gold or silver, you can opt for a foil-pressed design that will sparkle as bright as the holidays.
In the search for my own Minted holiday card, I felt compelled to share a few of my favorite foil-pressed designs I came across featured above.
They are, in order, from left to right:
Gold Rush Holiday Ornament Card
Save 20% on Foil Art Gifts
Minted also carries a unique line of foil art prints you can personalized with a selection of fine art frames, family photos or even upload a piece of your child's artwork and Minted will make it into a foil-pressed print!
What an amazing gift idea. Here are a few of my favorites….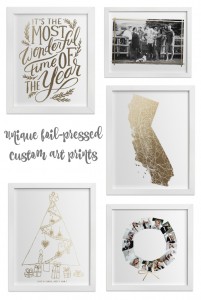 Left to right:
About Minted 
Minted is a design marketplace of independent designers. Every month Minted has art and design challenges and then the best designs are sold on the site. To learn more and shop, visit www.minted.com!
You Might Also Like