by jen
Guest Blog: How to Organize a Caroling Party
Thursday November 19, 2015
see more by
jen

How To Organize A Neighborhood Kids Caroling Party
Between the parties, presents, and so many twinkle-lit opportunities to celebrate the season, Orange County kids aren't lacking for holiday activities. But as much fun as it is to partake in the big events around town, sometimes we all crave something a little simpler and closer to home.
Last year I helped organize an evening of old fashioned, door-to-door caroling for the kids in our neighborhood. It was so much fun – and ridiculously low-stress – that we're doing it again this year, with a few improvements.
Here are 7 tips for organizing a kids caroling party in your neighborhood:
1. Save the date
December fills up fast, so it helps to touch base with a few neighbors ahead of time to set a date. We chose a Sunday evening mid-month, avoiding the party-heavy Friday and Saturday nights and ensuring a good amount of people would be at home in the evening. After settling on the date we sent around a casual save-the-date email and asked people to pass it along.
2. Spread the word
About a week ahead of time, we distributed fliers in every mailbox on our street. The invitation asked people to RSVP so that we'd know how many kids to expect, and also to help provide cookies, hot chocolate, cups, plates and napkins for the post-caroling gathering (which was held in my garage!). This year we're adding a note letting neighbors who don't have children know that we'll be knocking on their door that evening so they're more likely to answer and be ready to be serenaded.
3. Prep the singers
We held zero rehearsals for our informal caroling party, but we did want the kids to come across as prepared (and also avoid any rogue "Batman smells" improvisations). We sent lyrics to four classic (and easy-to-remember) carols along with the invitation and had printed copies when we gathered in my driveway. Before we set out, we had the kids practice each song a couple of times and reminded them to use their best manners and nicest singing voices. It helped to have a good number of older kids who could read mixed in with the little ones.
4. Start out on the right foot
The biggest mistake we made last year was not knowing if neighbors were at home when we started knocking on doors! The kids were so excited and ready to sing and we had to try three or four homes before someone opened the door. This year we'll stack the deck in our favor, finding out in advance which neighbors are planning to answer the door. That way if nobody's home at the fourth or fifth house, we'll at least have started out successfully.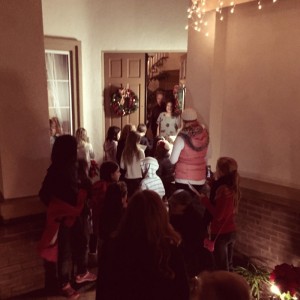 5. Be inclusive
We chose non-religious songs for our repertoire, and our flier encouraged families of all celebrating traditions to join in. While nobody spliced hairs over shouting "Merry Christmas" vs "Happy Holidays" as we paraded down the street, I do think it helped to set an inclusive tone and encourage participation from anyone who wanted to come along.
6. Keep it short
The entire event lasted from about 5:30pm until 7. This wasn't a marathon trick-or-treating session or giant block party. We gathered in my driveway, practiced a couple of times, and then sang at maybe eight or ten houses total. By this point the little ones were getting tired of "Silent Night" and everybody was cold and hungry. Back in my garage we passed out hot chocolate and cookies (nobody set foot inside, making it the easiest holiday gathering to host ever!) and everybody was gone by 7:00pm.
7. Think festive, not perfect
This isn't the event to take a perfect photo (too dark anyway) or show off a polished performance (not gonna happen). This is about kids and community, neighbors and music. Aside from letting the kids know we expected them to be respectful and cheerful, we let them interpret the experience in their own way. Some shook bells and tambourines; some dressed in their party dresses, others in PJs and reindeer antlers. Many messed up the words or got stage fright when the doors opened. But everybody returned with flushed cheeks and giant grins, and it didn't have to be perfect to be a party.
The best part of the evening for us mamas was standing back at the curb and watching neighbors' faces light up at the sight of 15 children singing "Rudolph the Red-Nosed Reindeer." It didn't cost a thing, was just steps away from home, and about as full of holiday magic as any other thing we did that season.
---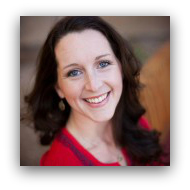 Sarah Powers is a writer, editor, and co-host of The Mom Hour podcast. She lives in Orange County with her husband and three young kids. Find more of Sarah's writing by following her on Twitter and Instagram.
You Might Also Like