by jen
Minted Gift Card Giveaway
Wednesday November 25, 2015
see more by
jen

[Disclosure: All  links in post are affiliate links + I received complimentary cards. 100% my own opinions. Minted is my fave.]
Minted Holiday Cards 2015
Unsure of where to order your holiday photo cards this year? Look no further than www.minted.com where you will find a unique array of beautiful options from independent designers around the globe. This post today is all about how to create your perfect Minted holiday card along with a special Minted giveaway where three winners have the chance to win a $100 Minted credit to put towards your order. Oh joy!
Recently I designed my family's 2015 holiday card through Minted's easy to use website and want to share with you all the different options Minted offers to personalize your holiday card.
But FIRST let's get down to the giveaway business because I want three of you to have a chance to put a $100 credit towards your order! 

All you have to do is CLICK HERE and enter your email address  to enter. Did you do it? Awesome.
Now let's get started designing!
How to Create Your Perfect Minted Holiday Card
1. Choose Your Photo(s)
First you need to select the photo or photos you want to use this year. Whether it's a beautiful professional family photo, or one of your favorites you shot this year on your phone, it doesn't matter.  Friends and family are just happy to see your smiling faces come the holiday season.  Usually we make a point to have professional photos taken of our family, but with all going on with me personally, it didn't happen this year. So I called upon my sister to come over one afternoon and take some photos of our fam in the backyard with our DSLR. Happy to say they actually came out pretty cute!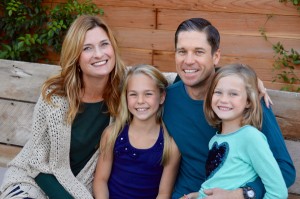 2. Try on Designs with the Minted "Find It Fast" Feature 
This is by far my favorite feature of designing holiday cards with Minted.  Once you create an account and upload the photos you want to use you can filter your design search depending on different parameters like number of photos, type of card, photo orientation, price, etc. Then, click click "On" at the bottom for the the Find It Fast feature, and it will populate your photo(s) into a ton of different designs.
I can't tell you how much this  cuts down on the time spent selecting a design! You can actually see your photo in all the different ones to quickly sift through and find the ones that work.
Here's what the Find It Fast filters look like: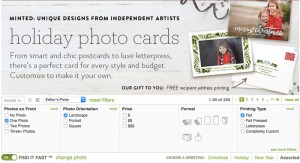 I clicked one photo, landscape and flat because I knew that was the type of card I was looking for and then it gave me samples to see of my photo in different designs.
Here is a very small sample of the different designs our photo was populated in.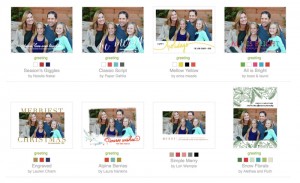 3. Choose Your Favorite Design(s) + Start Personalizing!
When you see a design(s) you like, select "personalize" and you will be taken to a screen where you can further customize your card.  Many of the designs have different color options you can try on, different border choices, zoom options, font choices and options to edit text or wording.  I heart options.  Make sure to keep clicking "save" so you can save some favorites to share for opinions if you wish.  I personalized 17 choices and shared with my parents to pick their favorites. My mom's advice? Start deleting some!  But it was hard to narrow down because I liked so many designs!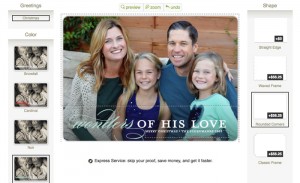 4. Now on to the Back!  
Once the front of the card is complete, you should be  ready to print, right? WRONG! Minted gives you a ton of personalization and customization options on the back too!
Did you have a hard time choosing a favorite photo for the front? Add some photos on the back! Want to share a few highlights from 2015? Add some text! So many fun choices to make your card special.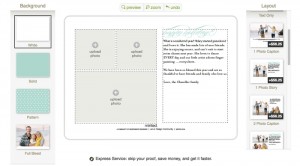 5. The Envelope Please…  
But folks, there's more! Now comes the envelope!
Minted's Address Assistant and FREE recipient envelope printing is another HUGE benefit to choosing Minted to print your holiday cards. It's so easy, it's free and it's beautiful to have a special envelope printed to match your design.
A few years back I entered in all my recipient addresses so now when I order my cards, my friends and family's names come printed FOR FREE in a darling matching design on the envelopes!  Do you know what this means?  I no longer have to get in a fight with my computer printer while attempting to print my own labels! Hallelujah!
After the envelope is gussied up, your design is complete!
Our Family's 2015 Holiday Card 
When scrolling through all the designs, the Wonders of His Love design and wording grabbed me because it has been a year full of Wonders of His Love amidst a year full of difficulty and challenges.  It just fit us this year and I love I could play with the color on Wonders to match our photo and I love the rounded corners with this design.
Happy Holidays from my family to yours this season and I hope you have the opportunity to design your own Minted holiday card and have as much fun as I did designing it!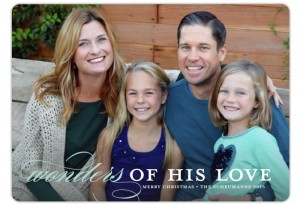 You Might Also Like