by suzanne
Odysseo Debuts in Irvine
Thursday February 11, 2016
see more by
suzanne

Disclosure: Media tickets provided to facilitate this review. 
If any of you drive along the 405 and 133 intersection, you can't miss the Big White Top under construction for the last month.
Every time we drive by, my boys are fascinated with "what they are building?!" When signs went up, we were thrilled to see it was Odysseo by Cavalia! For those of you not familiar, this show is known as the world's largest traveling production with a cast of 65 horses, trainers, musicians and acrobats that produce one TRULY magical experience.
It is the work of Artistic Director, Normand Latourelle, a pioneer with Cirque du Soleil, and an incredible team of set designers, musicians, choreographers and costume designers.  Click here for more info on Odysseo Orange County.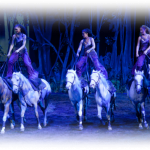 Photo credit: Odysseo
I simply love horses.  Their grace, power, strength and pure beauty are really inspiring to me.  When I heard I had the chance to see this show with my family I was ecstatic.
I went in thinking the show would be, of course, a horse show (and it is!) but also SO much more. The performers interact with the horses in various acts that run the gamut. Some are exciting and fast, doing simply unbelievable acrobatics, and then some acts were beautiful and soft.
It was breathtaking to watch one trainer lead nine horses in choreographed formations around the arena with no leads or bridles.  Just gentle commands and a lot of praise.  Their connection to these horses (which have to train as long as SIX years to be in this production!) is seriously awe-inspiring and their true gratitude and love for these majestic animals really shines through.
Click here for some direct links to actual footage of the show for a preview of the magic…
Photo credit: Odysseo
We took my son and a friend, who are both 6, and they REALLY loved it.  There was a mix of equestrian, aerial artists in rings and silks (my son's favorite part of the show), acrobats and more. We were mesmerized for the entire show.
The run time start to finish was about 2 1/2 hours, which included a 30 minute intermission. The Big White top is surprisingly comfortable and climate-controlled – we were told it costs $10,000 to cool or heat the tent for each production.  Parking was super easy and organized and they have plenty of food, snacks (hello Dipping Dots?!) , beer and wine for sale inside the tent.
Here are the boys practicing their horse acrobatic skills…future performers maybe?!  This cracks me up 🙂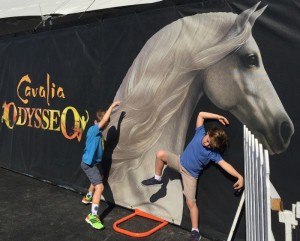 Odysseo Orange County was able to extend their run of the show due to an overwhelming response in ticket sales. Shows run Tuesday through Sundays now  through. March 13th. Click here to find the calendar of show dates  and to purchase tickets.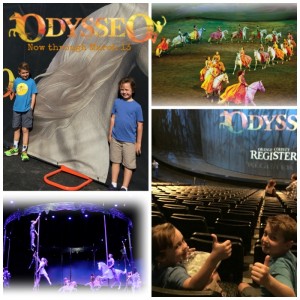 Has anyone else been able to see this amazing show? Please comment below! Thank you Odysseo for a truly memorable experience.
You Might Also Like