by jen
The Hardest Year
Thursday August 11, 2016
see more by
jen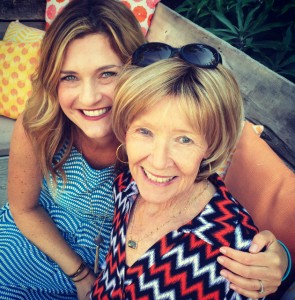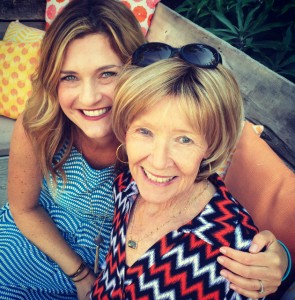 Me and Mom on our last Mother's Day together 2016
I wrote and rewrote this sentence so many times I am sick of thinking how to say this, so I am just going to say it because there is no good way:
My mom passed away at the end of June after a 10 month battle with pancreatic cancer at 68 years old.
Writing that my mom passed away still takes my breath away.
I started this post many times over the past month and wasn't ready yet. Grief is a giant roller coaster. The previous drafts were written when I was at the bottom of the coaster.  Today happens to be a day when I am at the top so I figured this was a good day to get this post done.
My blogging was really put on hold as we took on her illness as a family. I am starting to realize now how much I want to be back here, writing, although I am not the same person I was a year ago.
The Story
I am going to be brief and to the fact.  Mom was diagnosed with Stage III (could have possibly been IV) pancreatic cancer last August. At the time of diagnosis, her tumor was advanced and inoperable. She underwent chemo for six months and the beginning went as good as it can for chemo. We were very blessed that she got five "good" months during treatment where we were able to spend as much time together as possible.
After six months of treatment, scans and blood tests confirmed the chemo had stopped working and the cancer had spread. She was supposed to start a new chemo regimen when the pain escalated so much she was admitted to the ER where tests confirmed she had a blocked bile duct due to the cancer and a stent had to be replaced to open it up.
After the surgeon got in there he could see what the cancer had done. It had spread, it was aggressive, it was invasive. Not only on her pancreas but was eating away at her intestine so much that her stomach couldn't empty. She was in so much pain.
He told us the words you never want to hear. "I'm so sorry. There's nothing else medically we can do. It's time to call in hospice. Get her home and keep her comfortable."  My dad asked how long she had left. "Days to weeks."
Days to Weeks
She lived for 27 days at home with hospice support. My dad, sister and I were there with her every day. Being a part of the death process is mystical; it transcends human understanding. It was a sacred time, equal parts beauty and love mixed with extreme grief and overwhelming anxiety. The people who work with hospice are truly extraordinary human beings with a calling.
We surrounded her with love, conversation, laughter. We watched old movies together. My sister sang to her. We prayed. She fought to get every last second with us here on this earth. She was SUCH a fighter. To live for 27 days in the state she was in was nothing short of a miracle.  Although it was by far the hardest thing I have ever experienced, I will always treasure this time with her.
Life After
When she did finally pass we all had a sense of relief that she was finally released from her pain and the disease that destroyed her body.  We are Christians, so we have our faith and believe her spirit lives on in heaven with God and we will see her again. Having a spiritual belief and faith has been so important to our family during the most difficult time.
That doesn't change the fact that there is a huge hole in our family and in our lives.  She was our beacon, the rock of our entire family.  Figuring out our roles and how to exist without your beacon is a process, and a painful one, but one we are learning, baby steps at a time.
We let almost seven weeks pass before having her Celebration of Life memorial service, which was last weekend, and it was an overwhelmingly beautiful event filled with so much love.
Preparing for the service over those weeks was incredibly hard, but turned out to be an important part of the grieving process for me.  It was so painful I found myself wondering how people DO this?
We decided to do a slide show and at first I couldn't even stand to look at photos of her, it was so hard.  But the more I did, the more my eyes were opened to how HAPPY she was. How HAPPY our family was. How much time we spent together. How much LOVE we shared. These images of her…. healthy, vibrant, sparkly….these images started to replace the ones I had of her at the end when she was so very, very sick. It was a gift to remember all the happy images.
I also decided I wanted to speak at the service. My mom was so awesome I wanted to share her awesomeness as a mother with everyone.
Writing has always been cathartic for me, and going through the process of writing my eulogy was healing.  I sobbed and sobbed for weeks while working on it, but through the pain, I was able to recognize just how BLESSED I was she was my mother. How special and close our relationship was. How wonderful my memories were. I was able to find joy in my words. And as a bonus, I cried so much writing it that I was able to get up there and deliver it without one tear. I was able to speak with a sense of gratitude instead of grief.
What I Know for Sure
In the midst of the darkest days when you are most shattered with pain and grief, opportunities also arise to see beauty and light and I now know these things for sure….
– Angels exist. They are the people God sends to take care of you and love you during the most difficult of times. People we knew who stepped up and showed up in such a way our hearts will be forever touched, and people we didn't know yet who were there to help us through. From the moment she was diagnosed, people have been put in place all along the journey to see us through. We are on earth to love and care for each other.  There is no other time than in a crisis when you will see angels shine so brightly.
– Grief is too much to take on alone. My dad, sister and I are all in individual counseling and my dad has been regularly attending a bereavement support group, to which there are no words for how grateful I am he is getting help and support. Feelings of grief are so intense and so overwhelming, you need the help of professionals to navigate the emotions and give you tools to help you heal.
– There is no way around the grief, you have to move through it. I found myself saying, I wish I could just push a button and fast forward to next year.  I wish I didn't have to live this upcoming year of "firsts." You know, the first time I don't call her to share which teachers my kids got, first time she misses my daughter's soccer games and gymnastics meets, first birthday without her, first Thanksgiving, Christmas…the list goes on and on. It hurts. SO BADLY. But there is no short cut, this next year and likely the year after that are going to hurt, a lot. Some days hurt more than others. There is no recipe for getting through it, but you have to grieve. Some days hurt less than others, and some days it changes from moment to moment. My hope is for time to help heal.
– Her spirit is with us. People have said they feel the presence of their loved one after they passed and I never knew exactly what they meant, but I do now. I have felt her presence with me and have seen signs that she is very pouring out her love on us and her spirit lives on. I am certain of this.
– There is no time like the present. I don't want to sound cliche… but each day with your loved ones is a gift! One year ago today we didn't know my mom had cancer, today she is gone.  No one knows what the future holds so take the days when your loved ones are healthy and CELEBRATE. Tell people you love them, take lots of photos and videos of your loved ones, spend time with the people you love, heal stupid arguments or misunderstandings.  With the people that matter to you – live your life in such a way that you would feel like you had no regrets.
– Pancreatic cancer sucks. It's horrendous. It's often detected too late and the five year survival rate is in the single digits. Unacceptable. My family will fight for progress for pancreatic cancer until there is a cure.  In honor of my mom's legacy, we have set up a fundraiser in her memory to benefit the Pancreatic Cancer Action Network. You can make a donation of any amount here – > http://support.pancan.org/goto/InMemoryofJulie
Please pray for me and my family. This is going to be a process for us all. I look back to getting back here more regularly. I miss you and I miss our community.  I will be back.  Once again, in baby steps, as we all adjust to our new normal.  So much love to you all….xoxoxo jen
You Might Also Like