by jen
The Ranch at Laguna Beach: All You Want to Know
Thursday August 25, 2016
see more by
jen

Complimentary stay provided to facilitate this The Ranch at Laguna Beach review and the property is a client of Tiny Oranges.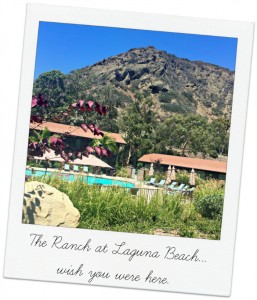 "Live in the sunshine, swim in the sea, drink the wild air." ~ Emerson
It took me some time to let the magic of the luxury boutique hotel, The Ranch at Laguna Beach sink in.  As an Orange County native, I found it hard to believe this piece of land, nestled in between the Aliso and Wood Canyons, even existed.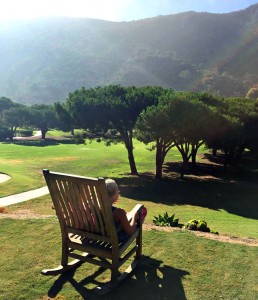 We have driven by Aliso Beach thousands of times, but little did I know the charm to be found just on the other side of Coast Highway, where a different world of natural serenity awaits at a brand new Laguna Beach boutique hotel, unlike anything else to be found in all of Orange County.
It is quite simply, the coolest hotel in Laguna Beach.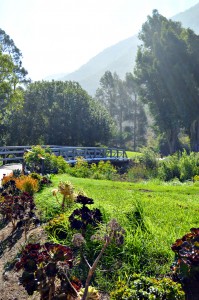 The Ranch at Laguna Beach Review 
The Ranch at Laguna Beach has it all. So close to beaches, dining, hiking, activities…yet so far away from the hustle and bustle. It's only 0.3 miles and an 8 minute walk from the sand, but once you enter the driveway, a secret spot of stunning Laguna Beach beauty waits for you to come on in, stay awhile and relax.
It was like being in another world.

The land is a part of Orange County history, and is home to Ben Brown's Golf Course, a 9-hole golf course tucked in the canyon, founded in 1956.

After the golf course was established many years ago, the owners of the property expanded to include a simple motel, a sort of destination stop off of Coast Highway.
But I am sure many of you Orange Countians didn't even know there was a motel back in that canyon, I didn't.

That was all about to change when Mark Christy, owner of Hobie Sports and lifetime Laguna Beach resident got a group of investors together to purchase the inn with a vision to take the iconic property and make it into a luxury, ranch-style resort that embraces the feel and philosophy of Laguna Beach.
ACCOMMODATIONS
Keeping the exact footprint of the previous property, but brand new in every other aspect, The Ranch at Laguna Beach has been completely remodeled in quintessential coastal decor.
With a variety of room configurations to suit every guest's individual needs The Ranch offers rooms, studio suites, one bedroom suites, two bedroom suites and even a luxe private treehouse!
Our family of four was hosted in one of their spacious two-bedroom cottages, which for a family, is sheer perfection.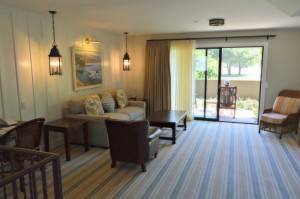 The cottage was so comfortable we felt as if we were home.
Our cottage included a dining table, kitchenette, half bathroom downstairs, huge living area with an attached patio waiting for you to come out and enjoy the view on a rocking chair.
The upstairs housed two separate bedrooms, one with a King bed and attached balcony, the second with queen sized bed, and a gorgeous bathroom in the middle.
All amenities are covered. Even some that are hard to find anywhere these days.
– Keurig coffee makers
– Microwave
– Fridge
– Cozy robes
– Daily paper delivery of your paper of choice
– Complimentary Wi-fi
– USB ports bedside
– Complimentary parking and valet
– And my personal favorite, NO ADDITIONAL RESORT FEE. Yes! 

The beds, dressed in fine Italian linens, were extremely comfortable and the black out shades and ability to close our bedroom doors and sleep separate from our kids was lovely.
The two-bedroom set-up allowed us all to sleep in.

Do you want a look at our two-bedroom cottage at The Ranch at Laguna Beach? Click on over here and view my 60-second tour of our room here on Instagram.
THE GROUNDS 
With a creek that runs through the property and to the ocean, the buildings of the ranch are tucked into the environment, blending in with their color and style to the landscape that surrounds.
Here is a photo of the private treehouse for rental. How cool would it be to rent this?!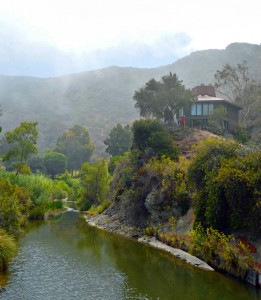 THE POND 
The fresh saltwater pool, affectionately named The Pond, is completely refinished, retaining its original shape, and had a vintage charm about it. Here is one of my favorite shots early morning, as the marine layer was in the process of burning off…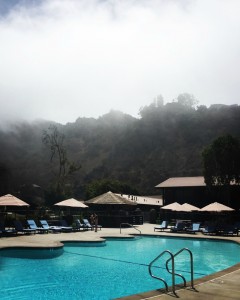 Give my girls a hotel pool and they are happy campers.  When they realized a poor bar was open for beverages they begged me for a lemonade, but I said, "no" because mommy needed to save her money for mojitos.
They then shared they learned from other kids at the pool that they met that lemonades are FREE.
Free lemonade for kids at the pool? The Ranch, I love you.

With comfortable, cushioned lounge chairs and C-shaped side tables perfect for your beverages, kids can bounce between pool and jacuzzi while parents relax.
It is of course my responsibility to report back on important things like the cocktails at The Pond so I sampled some on your behalf. You're welcome.
For the record, they were some of the very best I have EVER had. Too bad they weren't free. Then again, that might have been a problem.
If you go, make sure you try one of their mojitos.
DINING AT THE RANCH 
When construction is complete, The Ranch's signature restaurant, Harvest, can be found in the main building with a bar and beautiful private dining room serving upscale California and American cuisine inspired by local flavors.
Until the main restaurant is open, guests can enjoy a full breakfast and lunch menu at the fabulous Harvest Patio in the most picturesque setting overlooking the golf course.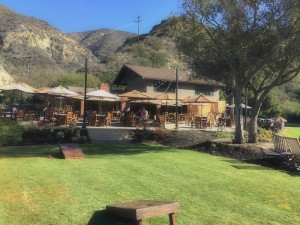 Dining with kids at The Harvest Patio was delightful. The tables, set under darling cafe-strung lights, was adjacent to a large, grassy lawn area where the kids could play cornhole and the girls could handstand and cartwheel to their hearts content.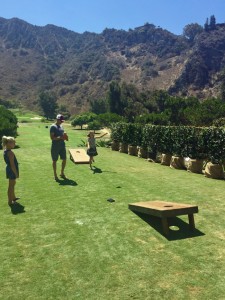 Ben's Pantry, your coffee shop at The Ranch serves guests daily from 6:00am – 9:00pm where you can grab your morning cup of Joe, have an after golf beer or order a glass of a California coastal wine.
They also offer upscale grab-and-go sandwiches and snacks for the beach, golf or pool.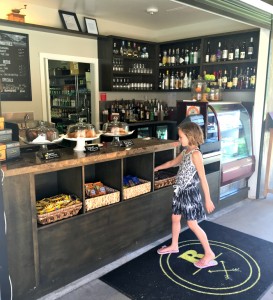 The Harvest Patio breakfast was extraordinary.
If you are a local, make it a point to do breakfast there sometime soon and when you do, please order the Smoked Bourbon Bacon Cinnamon Roll to share.  Like the menu states, 'Nuff said.
The Green Thumb green juice I ordered cancels out the cinnamon roll calories, right?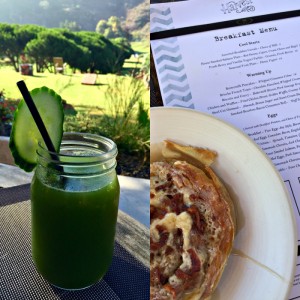 ACTIVITIES 
Laguna is home to arguably some of the best beaches in all of California, and there is no better place to stay than at The Ranch for the convenient location to them all.
Simply call the front desk,tell them you are going to the beach, and a golf cart will arrive to pick you up and drop you off at Coast Highway with loaner towels, chairs or umbrellas as needed.
Aliso Beach is the most convenient, right across the highway, but if you want to visit any other beaches, you can take advantage of the free Laguna Beach trolley or simply order an Uber.

The Ranch can also arrange a private surf or stand up paddle boarding lesson, of which my husband and I got to do for the first time while the girls were at the Junior Rangers program for the morning.
We got a brief lesson on the basics, then hit the water with our awesome instructor Mike.  Lots of tips and laughs later and we were hitting the harbor, and were able to make it 1 1/2 miles around the loop. SUPER FUN!
As a plus, I got to work off some of the cinnamon roll.


JUNIOR RANGERS PROGRAM 
The kids' program at The Ranch is called Junior Rangers and was such a welcome departure from the usual resort kid's club activities because it was not only fun, but educational too!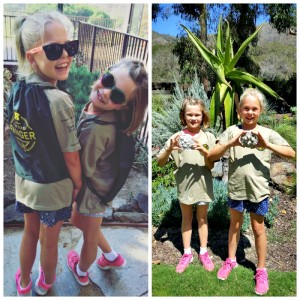 Kids ages 5 – 12 can attend with prior reservations for an additional fee. Program runs 9am – 1pm and includes a camp tee, backpack, take home craft and lunch.
The girls got to make plaster animal prints, tour the organic garden in a golf cart, learn about the animals of the canyon, do science experiments, play games and have lunch with an enthusiastic staff.
When I asked their honest opinion after we picked them up they said,
"It was WAY more fun than I thought it would be!"
Which is a rave review coming from my borderline tween 10-year-old who can be somewhat hard to please!  Locals are also welcome to book a spot in the Junior Rangers program for anyone looking to fill any summer days prior to going back to school.
FAMILY MEMORIES ARE MADE AT THE RANCH
At check-in we received a sheet with times and activities going on during our stay and fun was to be found every day. From movie nights to nature talks to campfire songs with complimentary hot cocoa, The Ranch truly is dedicated to making sure you have endless opportunities to make family memories.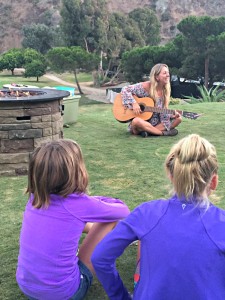 We loved our stay.
There is something special about The Ranch and the feeling you have when you are there.  Maybe it's the history or memories of a simpler time. Maybe it's the chance to take a step off the busy highway of life for a few days and recharge in nature. Most of all, it was the time together to discover the property and experience a completely unique kind of vacation.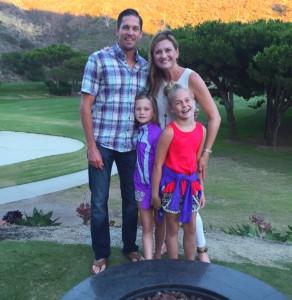 This photo below inspired the opening quote above.  At The Ranch you truly do live in the sunshine.  Thank you for giving us these memories.
We will be back.

BOOK YOUR STAY NOW
Preview rooms are available now (beware there is some construction still going on and not all areas are quite complete), with grand opening coming soon. Follow The Ranch on social media for news of the opening. Find them on Facebook, Twitter and Instagram.
You Might Also Like