by jen
Solution to the Lunch Box Stink
Sunday August 28, 2016
see more by
jen

Disclosure: Links are affiliate links 
Finally. A more smell proof lunch box. No need to brace yourself for impact when opening at the end of the day.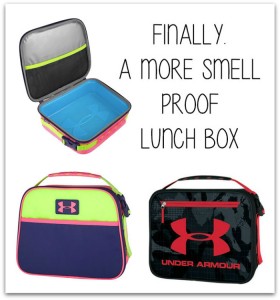 I really hate bad smells. Which sounds funny, because I am sure everyone hates bad smells, but I am particularly sensitive to bad smells and they can make me crazy.
One of my top personal odor offenders, is the smell the girls' lunch boxes get after the school year gets underway. You know what I am talking about, right moms, that stale, gross stink that seeps into the plastic lining?
EWWWWW.
The plastic really starts to retain the stink and no matter how thoroughly we wash it, the smell always returns.   Therefore, when I discovered these Under Armour lunch boxes that are lined with plastic, I thought they would be worth a try to see if the plastic helped make it a smell proof lunch box.
I guess the official word for the plastic is PEVA lining.There is a pocket on the interior lid for an ice pack and there is plenty of room for a thermos and your reusable lunch box containers.
You can buy them here on Amazon ladies…..
Then go ahead and give it your own whiff test this year!
You Might Also Like