by jen
New Year, New Home Update?
Thursday November 17, 2016
see more by
jen

This article is in partnership Remodel Works Bath & Kitchen
As a homeowner, there comes a time when you notice certain rooms in your home are looking a little, well, outdated. If visions of a new year remodel are dancing in your head this holiday season, I hope this post gives you some design inspiration as you plan your new years home resolutions.
The first areas to show signs of aging are usually the kitchen and bath, where outdated materials can tell the tale of days gone by. Home improvements like new cabinets, fixtures and countertops can make a dramatic difference and bring you back to the current day.
Keeping your home updated can also be a smart investment, and the kitchen and bath deemed are wise choices when prioritizing. A minor bathroom remodel came in #1 with a minor kitchen remodel following at #3 in this HGTV article on the top 15 home updates that add value to your home.
Remodel Works Bath & Kitchen
San Diego-based Remodel Works Bath & Kitchen specializes in bath and kitchen renovation. This family-owned and operated business has been creating beautiful living spaces for more than 33 years.
Offering their clients unique services such a dedicated project manager, day-to-day schedule with exact start and completion dates and a 5-year workmanship warranty, Remodel Works helps take the anxiety out of remodeling so you can focus on the exciting aspect of your stunning end result.
Here are some before and after photos of recent Remodel Works projects I loved when checking out their gallery online.  You won't believe the dramatic differences! Let's start with two of their kitchens.
A Transitional Kitchen Design
Here's the first before photo. A rather uninspiring kitchen, right?
And afters!
Transitional design is one of the fastest growing choices when doing a kitchen remodel.  A transitional design marries the warmth of traditional design with the clean, simple lines of contemporary style.  Transitional spaces project balance and harmony.
And gray is the new white when it comes to kitchens and I love the contrast of the charcoal countertops with the white cabinets and subway tile. Un-cluttered, striking and beautiful.
A Modern Farmhouse Kitchen Design 
Here is another example of a kitchen before Remodel Works came in. Kitchen design has sure come a long way since then…
And the afters!
This beautiful kitchen embodies many of the current trends in kitchen design: transitional and farmhouse.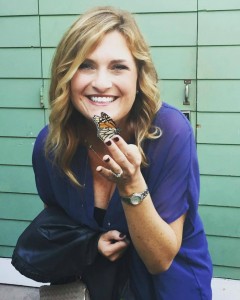 Once again, it is transitional, blending traditional warmth with contemporary elements.
In combination, the shaker style cabinets, retention of the cozy hardwood floors, farmhouse sink, wooden barstools and dining table make this this a modern farmhouse style kitchen.
One I wish were mine. Sigh…
New Year, New Home
My husband is going to be really bummed I worked on this post because I am typing this in our outdated kitchen and have a lot of new ideas with what kind of updates we could do! Time to start planning ahead, and budgeting. Will you all help me with choices if he gives us the green light to proceed? Wish me luck!
In the meantime, for more information on Remodel Works Bath & Kitchen visit www.remodelworks.com.
You Might Also Like