by jen
10 Affordable Holiday Photo Card Sites
Thursday December 1, 2016
see more by
jen

disclosure: all links in this post are affiliate links
Now I know some of you were on your game this year and might even have your holiday cards already in the mail (good for you).
For the rest of us, I wanted to share 10 affordable holiday photo cards websites to check out this holiday season. Hint: Get on the ball and order them soon because most all of these sites have major sales and holiday card promo codes right now. Here are 10 sites and designs I picked, will list in order of most affordable based on the designs that caught my eye. But make sure you browse around the sites too, because most have a good variety of designs and affordable price points.
Affordable Holiday Photo Cards
Prices listed for the design shown are for a sample 100 card order.
 Zazzle ($0.62 ea)
Click here to get to Zazzle holiday cards
It was fun for me to find that Zazzle, an amazing website for customizable gifts (think bags, iPhone cases, pillows, aprons, I mean you NAME it!) also has a fab line of holiday photo cards. For a steal!

Target ($0.99 ea)
Click here to see Target's holiday cards and affordable pricing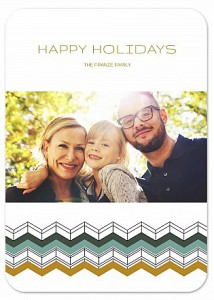 Storkie ($1.09 ea)
Click here to get to Storkie holiday cards
I loved this recycled postcard…
Tiny Prints ($1.14 ea)
Click here to get to Tiny Prints holiday cards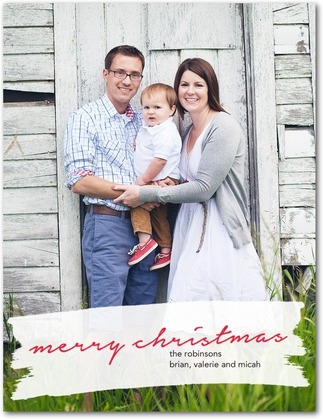 Tiny Prints is a long time favorite of many, for good reason. Their Studio Basics designs are the most affordable holiday photo cards and are also super cute.
I had to show this design too even though, a little more pricey. Just fell in love with the barn door…
Pinhole Press ($1.49 ea)
Click here to get to Pinhole Press holiday cards
Pinhole Press is a fun find, offering beautifully simple photo cards, I loved their different collection of collage photo cards too.
Minted ($1.65 ea)
Click here to get to Minted holiday photo cards
I have been a long time fan and customer of Minted and once again, will be ordering my cards through Minted again this year.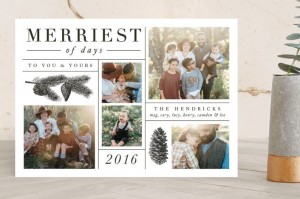 I love Minted also offers matching FREE designed envelopes and FREE recipient address printing.
Here is just one example of their cute envelope designs.  And again, it's free!

Paper Culture ($1.74 ea)
Click here to get to Paper Culture holiday photo cards
Modern, eco-friendly cards and for every order, Paper Culture plants a tree.  Tons of cool new designs this year.
PurpleTrail ($1.89 ea)
Click here to get to PurpleTrail holiday cards

Artifact Uprising ($2.20 ea)
Click here to get to Artifact Uprising holiday cards
Now this probably falls outside of the "affordable" range, but seriously, I just loved this one!
The site offers the most beautiful photo gifts for pretty much everyone on your list.  Beautiful photo books, Instagram books, calendars, and more.
Thanks for looking and happy holiday photo card designing! 
You Might Also Like