by jen
Galileo Innovation Summer Camps for Kids (Giveaway!)
Monday March 13, 2017
see more by
jen

This post is brought to you by Galileo Innovation summer camps for kids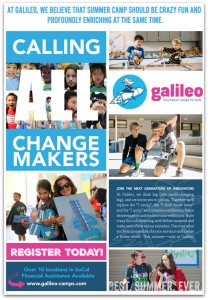 When the calendar turns to March every year without fail the texts and emails begin to filter in from my mom friends asking each other the same question…"What summer camps are you signing your kids up for this year??" And behold, the summer camp conversations begin.
For all you mamas starting your summer camp planning and research on the best OC summer camps for kids, I am thrilled to share with you a fabulous innovation summer camp which might not be on your radar since it is fairly new to So Cal called Galileo. But it should be! You can thank me later.
Because Galileo is not your typical summer camp. Yes, it's super fun, and the kids will have a blast. But it is something more, something special. It's a camp that is profoundly enriching because Galileo seeks to teach children they have the power to change the world. They want to teach them their ideas matter and anyone can take an idea and make it come to life.
Take a moment to watch this quick video to give you a taste of what Galileo summer innovation camps are all about…
GIVEAWAY!
Before I go on any further, I don't want you to miss the opportunity to enter to win $200 off one week of 2017 summer camp to one family at any of the Galileo locations. All you have to do is click here to visit their website, and then come back comment on this post about what you would be most excited for your child to learn at camp. Giveaway runs through March 19, 2017 at 11:59pm PST. Winner will be chosen at random and contacted via email. Good luck!
Galileo Innovation Summer Camps for Kids
I had the opportunity to speak with Hope Adams, the Galileo Orange County Area Director last week to gather info for this post.
Her first grade daughter has attended the Galileo camps and she was SO passionate about the program and the magic that occurs when kids attend a Galileo camp, she actually called me back about a half an hour after we hung up because she kept thinking of more amazing things to tell me.
She shared with me the amazing growth she saw in her daughter and how the camp sparked her creativity, stretched her imagination and inspired her to innovate in her imaginative play. The passion in her voice was contagious.  You know when you are talking to a mom who LOVES something and wants EVERY mom to know about it? It was like that.
What is Galileo?
Galileo summer camps are innovation summer camps for kids ages Pre-K through 8th grade to create and nourish a love for innovation.
The program was launched in the Bay Area back in 2002 and came to Southern California just a little over two years ago where it has been growing like wildfire. With multiple locations in Los Angeles and three Orange County locations in Irvine, Newport Beach, and Rancho Santa Margarita, you can visit the Galileo website to find a 2017 Southern California Galileo summer camp near you.
Camp Galileo
For younger innovators ages pre-K through 5th grade, Camp Galileo offers unique immersion experiences in art, science and the outdoors through different weekly themes. The 2017 summer themes include Galileo Amusement Park, Galileo Makers: Move It, Medieval Adventure and African Safari.
Galileo Summer Quest
For older innovators entering 5th – 8th grade, Galileo Summer Quest  gives them the opportunity to dive deeper into specific topics by choosing different "majors" for the week in areas like Go Karts, 3-D printing, Chefology, Web Design, and Inventor's Workshop.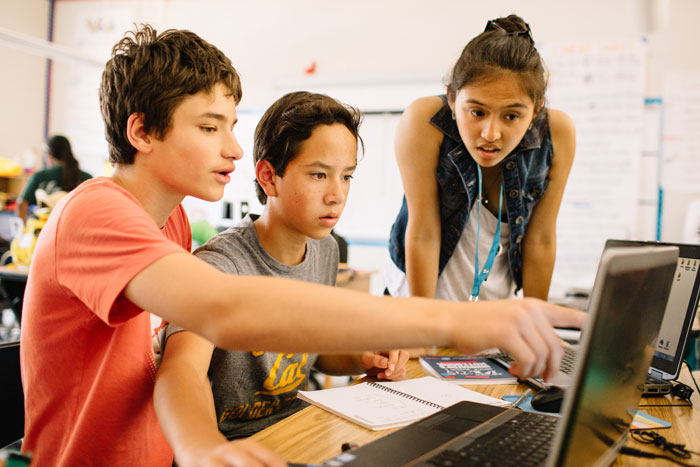 You might be wondering how Galileo does it? How can you teach kids to be innovators and change makers? The Galileo Innovation Approach taught at Galileo consists of three main areas to enhance learning and confidence in all campers.
First, the young Visionaries are taught The Innovator's Mindset.
Which consists of the following 5 pillars:
I AM VISIONARY: I envision a better world. I imagine things that don't yet exist. I believe it's my place to turn ideas into reality.
 I AM COURAGEOUS: I freely share my creative thoughts. I stretch myself to try new things. I embrace challenges.
I AM COLLABORATIVE: I value the unique perspective of others. I build on the ideas of others. I use my strengths to support the work of others.
 I AM DETERMINED: I persevere until I achieve my goal. I recognize setbacks as opportunities to learn. I know that innovation and mastery require effort.
I AM REFLECTIVE: I take time to think about what is and isn't working in my design. I think about how my work impacts other people and the world. I seek feedback to improve myself and my work.
Next, children are taught The Innovator's Knowledge.
Before any innovator embarks on a new project, they must have an understanding of key fundamentals.
Working within the theme for the week for the littles, and the major area of study for the bigs, the talented and camp counselors work to present the key concepts, facts, skills and techniques to enhance their knowledge.
And finally, the campers learn The Innovator's Process.
Once the kids  have an understanding on the knowledge, background and qualities it takes to be a visionary and designer, they are now encouraged to bring their ideas to life through The Innovators Process which looks like this.
One of the key components of the process is in the testing, where kids are encouraged to see mistakes as building blocks, or opportunities to improve and refine.  In fact, they are called MARVELOUS MISTAKES at Galileo and high fives are encouraged when something doesn't work just right because it means that a better, more improved creation will be on the way.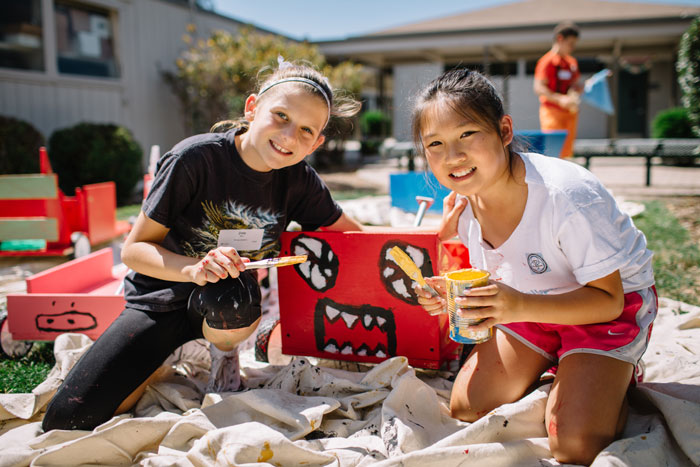 I feel like all of these concepts are extraordinary life lessons for our children. So, plug this camp into your summer camp planning spreadsheets mamas, but don't wait too long to register because spots are limited!
Galileo Registration Details
Who: Change Makers ages Pre-K through 8th Grade
What: Galileo innovation summer camps
When: Summer 2017. Dates vary by location.
Where: Over 70 locations throughout Los Angeles, Orange County and the Bay Area for any of our friends up north. Click here to find the location nearest you.
Time: All camps officially run 9am – 3p, but extended care is offered from 8a – 9a and from 3p-6p for those who need it.
Why: To give your child the opportunity to experience a summer camp that is crazy fun but also profoundly enriching with life lessons that will carry on long after summer camp ends.
How: Registration open now! Click here to register. Make sure to look for any special referral bonuses at your location if you are able to recruit friends to join. And, if you refer a new family, both you and your friend will receive a referral discount of up to $100 (varies by location, check website for details)!
Camp For All! 
Galileo has a robust financial assistance program, and last year, they awarded over 3600 weeks of specially priced camp. For anyone seeking financial assistance to give their child the opportunity to attend a Galileo camp, applications will be accepted through March 31st, 2017.  Families can complete the application here. 
You Might Also Like