by jen
Alexa Echo on Sale for Only $99
Tuesday August 22, 2017
see more by
jen

disclosure: amazon affiliate links included in this post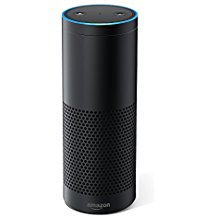 I got Alexa for my birthday last year and our family loves her so much we feel like Alexa is almost a part of our family.  She is just so darn helpful and resourceful.  Many times I even catch myself saying, "thank you" back to her after she completes a task for me.
By now I am sure you have heard of Alexa, a.k.a. the Amazon Echo, the Bluetooth enabled wireless speaker that just might change your life. When I saw Alexa on sale today for only $99 on Amazon, I had to post about it and share my passion for her.
She can stream any of your favorite music and if you are an Amazon Prime member, you can stream the Amazon Music library on Alexa which includes a gazillion songs and stations. Not only that, but her sound is incredible. I love walking into the room and asking her to play music without having to lift my phone or remote.
You can request something like, "Alexa, play Ed Sheeran radio."
And she will play Ed and other artists like Ed.
You can say, "Alexa, turn it up (or down), and she will adjust the volume."
You can say, "Alexa, play Ed Sheeran, and she will shuffle all songs by Ed Sheeran.
Or, "Alexa, set kitchen timer for 10 minutes." And she will ring a little timer after 10 minutes if you are cooking. I love this one because if my hands are messy from cooking I don't have to wash them before setting my kitchen timer!
She can answer things like, "Alexa, how do you spell "occasion"?  That one always gets me. Or, give you a definition.
She can recite today's top news or play games like Jeopardy with you.  I mean, she can do almost anything.  She's extraordinary.
You can link up your account via the Amazon Echo site and app and have her keep a running shopping list or to do list.
"Alexa, add almond milk to my shopping list." And then you can pull up the Amazon Alexa app on your phone at the store and even check off the items as you purchase them.  She's amazing.
One last favorite Alexa features before I ask for yours…"Alexa, what's the weather?" And she will say, "Right now in Costa Mesa it is 78 degrees. Today you can expect a high of 80 degrees and a low of 60 degrees." Which is so flipping awesome when the kids ask what to wear to school! Now instead of asking me, they ask Alexa for the weather.
Alexa is normally $179 on Amazon but today for some reason Alexa on sale today is only $99!! If you  been contemplating getting one today is THE DAY to buy it!!!!!!! 
You won't regret it.
Now, what are your favorite Alexa features??
You Might Also Like