by jen
CHOC Children's Mental Health Inpatient Center
Thursday April 5, 2018
see more by
jen

CHOC Children's is a partner of Tiny Oranges, but this is not a sponsored post.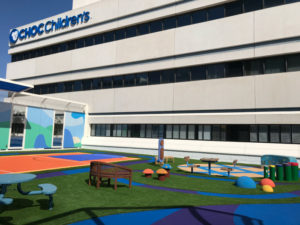 As a proud CHOC Children's partner, I was invited to tour their brand new Mental Health Inpatient Center before it opens its doors to patients this month. The desperately-needed facility will provide 18 beds to treat children ages 3 – 17 in a mental health crisis and allow them to receive care close to home.
An estimated one in five children has a diagnosable mental illness during childhood. That would be 150,000 children in Orange County alone. But until now, children under 12 that were a danger to themselves, others, or gravely disabled didn't have any inpatient bed options in O.C.  The children would have to wait in Emergency Rooms until they stabilized enough to be moved to an inpatient bed outside of the county. That, to me is tragic!
This new facility will fill a big hole in the system and undoubtedly will make a big difference in the lives of local children and their families in the middle of mental health emergencies.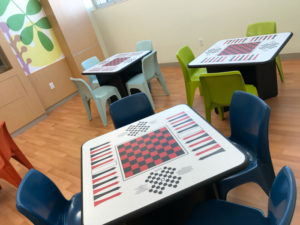 CHOC Children's Inpatient Health Center, which will be a major component of the comprehensive system of mental health care CHOC is creating, was built to provide the highest level of patient safety in a relaxing environment that promotes healing.
All of the 18 patient rooms are private, and there is an option for parents to stay overnight with their children, both of which are unique for the state of California.
Every single detail has been considered with patient safety in mind. For example, the windows are made of shatterproof glass and every fixture is designed to not be a "tie-off" opportunity. You can see an example with one of the doorknobs in the photo collage below.
I can only imagine the peace of mind it would give parents knowing their child was in a safe place to get help during a crisis.
The average length of stay is typically 5 – 7 days and will include mental health screenings and access to care through CHOC's mental health resources. In most centers, programming is not available on the weekends, but CHOC's center will provide the full scope of programming seven days a week.
In addition to their medical care, patients will also have access to complementary therapies such as art and music therapy, mindfulness, exercise, nutrition, and two sensory rooms, high and low, for patients requiring sensory therapy.
When a child is discharged, care planning for the future has already been underway, including connections to outpatient therapy, schools, medical care, support groups, parent assistance. The goal is to provide support after a child leaves to reduce the risk of re-admittance.
Early Intervention is Key!
Mental health is just as important as physical health.
In childhood, many troublesome behaviors might be dismissed with the thoughts, "It's just a phase." or "He/She will grow out of it."
However, as parents, we know our children best. We also have the gift of parental gut instinct. If you sense something might be wrong with your child, don't wait to get seen by a professional.
There are a wide array of mental health services available to help children who are struggling to give them the tools they need to heal.
For more information visit: www.choc.org/mental-health
You Might Also Like