by jen
5 Favorite Instant Pot Recipes for Beginners
Wednesday April 11, 2018
see more by
jen

After my last, heavy post on grief, I wondered how I could segue into a light and fluffy post on my five favorite no fail Instant Pot recipes for beginners? From grief to recipes? Really? I pondered this question with my sister to which she replied, "Jen. No matter how deep we are in grief or what kind of day we have had, the kids still need to eat."
Truer words have never been spoken, and my sister has been right there with me. We could have the worst day, filled with tears, sadness and heaviness but the kids still need dinner. Life goes on, and moms have to take care of business. So we wipe our eyes, and move on. One foot, and one dinner, after another. And my Instant Pot has been a life saver.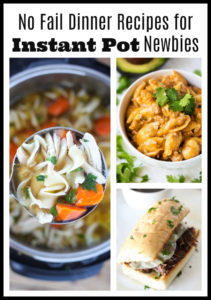 Disclosure: Links to the mighty Instant Pot in this post are affiliate links. Which means if you were to click on the link here and buy, I get a very small portion. No cost difference to you. Just need to let you know. 
The Instant Pot: Appliance, Myth or Legend?
My friends were making this appliance seem like the answer to all my dreams. Suddenly they were all professing their love of their Instant Pot like they were infomercial actors. The perfect hard-boiled eggs in 5 minutes! Cook a whole chicken in just 25 minutes! Steel-cut oats cooked to perfection in 4! But wait! There's more! 😂
My sister told me this appliance would, and I quote, "change my life." I mean, seriously.  Change my life. I wanted to laugh, but she was serious. I told her, "But, I like my Crock-Pot…" to which she replied, "When you get the Instant Pot you can THROW AWAY your Crock-Pot!"
With an endorsement like that, I didn't think twice about clicking to buy it when I saw the Instant Pot go on sale on Amazon (and it's on sale NOW!!!) Get it mamas. It WILL change your life.
When my Instant Pot arrived I was scared. It is intimidating, especially for a cooking-challenged person like me. There are a whole lot of buttons, and scary beeps, and steam, and sounds. Hold me!!!!!! One of the first times (I think) I turned it on right, I just stood there staring at it while it started to come to pressure.
I was just a girl, standing in her kitchen in front of the Instant Pot, hoping everything would be okay.
And it was! Most of the time that is. There are fails. But we have to learn and move on. And once I got the hang of it, and I am getting the hang of it, I have to admit it is pretty darn amazing. I use it 3 – 4 times a week and I LOVE IT!!!
So I wanted to share five recipes that even a newbie like me was able to figure out which were DELICIOUS.
All photos compliments of their respective blogs and I will link to each in the recipes. Enjoy!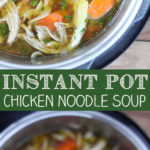 This was one of the first recipes I mastered. Soups are amazing in the IP, because you can sauté and soften your veggies on the Sauté function IN the IP before you add your liquid! Then, this recipe instructs you on how to cook the WHOLE chicken for your soup also in the IP. It's a one-pot wonder! My kids love CNS (chicken noodle soup) and we love this recipe.
Click here for this Instant Pot Chicken Noodle Soup recipe
I get tired of the same stuff for dinner, so it is fun to mix a warm sandwich into the rotation. This is a great meal for the family because you can prepare the meat and then fix the sandwiches when you get home from running around doing all the things we do every day as moms!
Click here for this Instant Pot French Dip Sandwich Recipe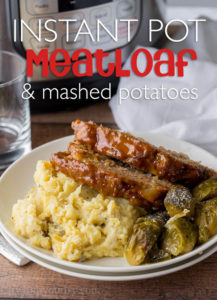 You guys. This quite possibly is the BEST. MEATLOAF. EVER! It's like magic done in the IP. And you cook your potatoes right there underneath your loaf! Juicy and delicious. I subbed ground turkey, omitted the BBQ sauce, and added in some shredded parm like she suggests in the recipe. Didn't brave the sprouts. It is truly spectacular. Kids don't like meatloaf? They will like this one. Try it!
Click here for the Instant Pot Meatloaf with Mashed Potatoes recipe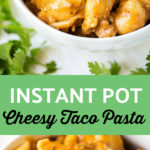 Cheese. Tacos. Pasta.
Three of life's greatest foods in one easy to make Instant Pot dinner that will knock your socks off! It's only calls for 6 ingredients and will be done in 30 minutes. Sure to become one of your weeknight dinner staples!
Click here for this Instant Pot Cheesy Taco Pasta recipe 
 I HAVE to share this method for cooking the best steamed broccoli because broccoli is one of the few veggies my kids like.  I didn't even KNOW cooking something in the IP for ZERO minutes was a thing! It is. Here's how to do it…
Click here for the Instant Pot Perfect Steamed Broccoli Recipe
Do you have some favorite IP recipes to share? Ones that are easy for beginners? Please link in the comments below!
You Might Also Like