by jen
#DrivetoThrive
Thursday April 16, 2020
see more by
jen


Leave it to a global pandemic to kick me in the rear to start writing here again! Hello friends! I hope you are all staying safe, healthy and (somewhat) sane.  It has been far too long and I have missed you all so much. Follow me on Instagram and Facebook for updates on a revamped Tiny Oranges on the horizon.  God knows we have a lot to talk about these days. I hope you will join me for the conversations. Stay tuned!
#DrivetoThrive
We have started a fun community project in the midst of this challenging time called #DrivetoThrive and I hope you might want to join in! Giving back in times of sadness and anxiety is so good for the soul and is one of the things helping me through. Here is what it is all about!
Support Local Restaurants
#DrivetoThrive is a restaurant gift card collection to support small, local restaurants.  Our local eateries are hurting right now and struggling to stay afloat. They have employees with families to feed and bills to pay.  Purchasing gift cards is a way to give back and help with their sales.
Now here is the part where this gets EXTRA fun…
Thank Unsung Heroes on the Frontlines
The gift cards will then be gifted to a special group of employees at both Hoag Hospitals (Newport Beach and Irvine) in the EVS department (Environmental Services) working with Covid-19 patients.  The employees that work in housekeeping are just as much on the frontlines right now and their work is extremely important. I thought it would be really awesome to recognize this hard-working group of people.
There are 49 employees working with Covid-19 patients at Hoag.  My goal is to give each one of them a gift card from one of the restaurants along with a handwritten note or piece of artwork from a child as a thank you from the community. Just writing that makes my heart so happy.
How You Can Help
I have laid out the details on how to get involved in the graphic below.
You can donate to me via Venmo @Jennifer-Scheumann and support one of the three family-owned restaurants our family knows and loves…Rooster Cafe, Sgt. Pepperoni's Pizza and El Ranchito. Please mention the name of the restaurant in the notes OR write "general" if you don't have a preference!
If you have your own favorite local restaurant in the Costa Mesa – Newport Beach – Irvine area you would like to support, you can purchase gift card(s) on your own to donate to this project.
For those local restaurants that might want to figure out how to get involved, I would welcome and encourage you to start your own collection by selling your gift cards to be donated to the project.The more restaurants we can help and more gifts we can give, the better!!
Lastly, I would love to get the kids involved in this by making drawings and cards for the EVS workers to say thank-you and include a personal note with each gift. We have the time for an extra project, right mamas?!
If you have any questions, send me an email! Thanks in advance for your help and participation! xo, Jen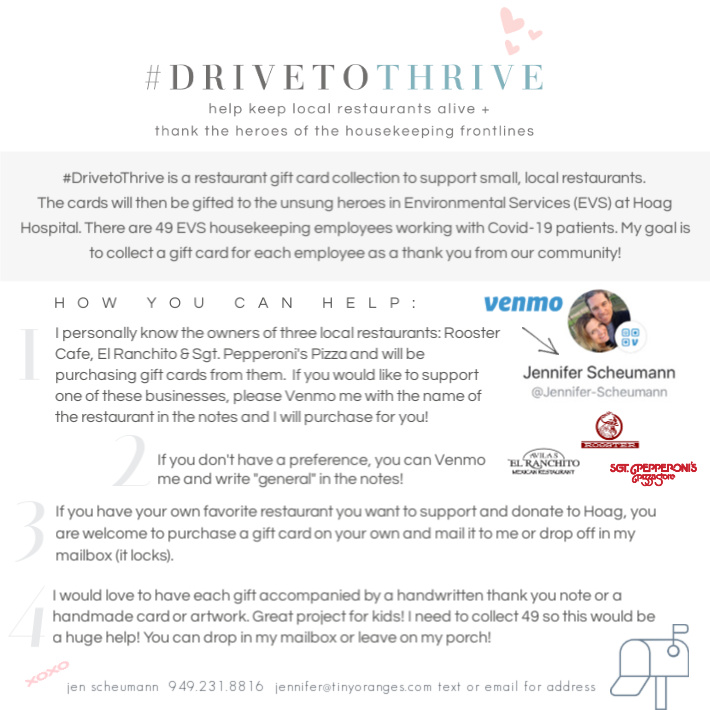 You Might Also Like