* all links in this post are amazon affiliate links *
'Tis the season for shopping and since I know a thing or two about what girls are into having two myself, I wanted to share some gift ideas for girls under $50. Yep, no gift on this gift guide is over $50 and all these items can be bought on Amazon Prime, which is my best friend during the holidays and all year round.
12 Gift Ideas for Girls Under $50
(ages 7 – 12)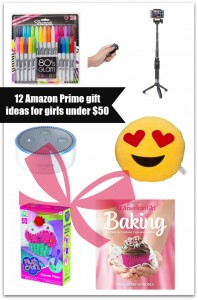 My girls are ages 7 and 10, so we can assume these are gift ideas for girls ages approximately 7 – 12. My girls are into arts, crafts, selfies, Musical.ly, putting on endless "shows", reading and recently have found a new obsession with baking.

Someone shared about this book its series on Facebook as excellent books for my oldest daughter's age (10) and recommended it as a book we can both read and discuss.  I love to read so I thought we would give this series a try. The reviews are excellent.
iPad Mini 2 Case

Girls are asking Santa for an iPad Mini 2 this Christmas and one of his elves told me they scored them at the Costco in Tustin for $199 (steal of a price, best I can find).  If they are lucky enough to get one, this case came highly recommended.  Nice to be able to stand it up and the stand then also doubles as a handle.
So silly. The girls love these. Browse around for different options of Emojis. This one though, is my fave.
Funny story I have to share about emojis. My 7-year old was using the pile o' poop one a lot and I had to talk to her and tell her that I really didn't care for the poop because it wasn't really appropriate and she FLIPPED out. She was so upset.  Turns out that the whole time she thought it was chocolate. LOL
One of my girlfriends told me her daughter LOVES these different Plush Crafts so I got two different pillows for both my daughters. Looks like a fun holiday break craft.  I got my youngest the cupcake, and my oldest a Monogram one where you can do your first initial. Cute.

Echo Dot

My girls are her friends make up shows and dances to be preformed for the adults ALL. THE. TIME. The Echo Dot is a hands-free voice-controlled device with a built in speaker which I thought would be perfect for them.  So now instead of having to endure  music from an old iPhone, the Echo Dot bluetooth speaker is going to come in VERY handy. Plus the adults will now at least get to enjoy Justin Bieber with better acoustics.
American Girl Baking Cookbook

The girls and I got hooked on this cute show over Thanksgiving called the Kids Baking Championship on the Food Network which inspired them to start baking. So far they have mastered brownies, snickerdoodles and this week, a pretty darn tasty chocolate chip cookie. It's nice to also have a real cookbook to use instead of going online for recipes, so I thought this cookbook would be fun for them. Great reviews, and anything Williams-Sonoma does is good with me.
Tabletop Selfie Stick and Tripod with Remote

Is anyone else a little concerned with the amount of narcissistic kids we may be raising as a result of the Selfie Generation? Me neither. Hee hee. So why not let them take it a step 
further with this tripod that also can be a selfie stick AND has a remote so the girls can position themselves for their next Musical.ly production and hit record with the push of a button.
Sip by S'well Insultated Water Bottle

Obsessed with my S'well bottle, it goes everywhere that I go, and I love this line Sip by S'well which has fun designs for the kiddos. This lemons on pink design is too cute.

The girls do art and are constantly coloring and crafting and there is nothing, I mean nothing better than a brand spanking new set of Sharpies, am I right? Love the 80s Glam and Electro Pop shades.
Wits and Wagers

Our family loves this game!!! It's a great family game, and great game even just for adults.
 Mermaid Tail Blanket with Matching Doll Tail

Cozy Minky fabric made into a mermaid tail blanket? Can you even stand the cuteness? This one even comes with a free side one girls can use for their dolls. Lots of cute colors. Love.

By far one of the toys we have gotten the most milage out of is this floor easel.  I love that the easel is somewhat tasteful and blends into our living room. Hours of time spent drawing on this, especially when the girls play school.
Happy shopping mamas!