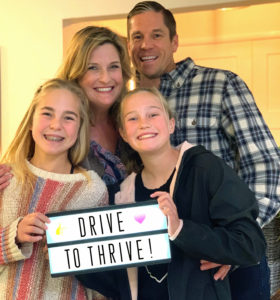 Hello! I am really happy you are here. Why? Because YOU are the reason I blog, so thank you for taking the time to click on over and get to know more about us.
I'm Jennifer, but most people call me Jen. I am a Jen kind of girl, never a Jenny. I am a wife of 18 years to my husband, Stefan, whom I met at Malarky's Irish Pub in 1998. Cutest boy I ever did see. I had to say "hi" and the rest was history.
We have two girls who are the center of our universe.
My oldest, Emma, is 13 and little sister, Morgan is 10. Out of all my parenting years, I have to say, the stage we are in now at these ages is my absolute favorite. They are completely opposite, and equally amazing (but I am a tad biased). Tiny Oranges is my third child so we are done. Family complete and it feels soooooo good!
I started Tiny Oranges in the summer of 2008 when my firstborn was two after I realized just how much I relied on my mommy friends for tips and advice. It felt so comforting to know moms going through the same things and we were all trying to help each other navigate this new world.
I felt inspired to create a blog to share these same sorts of ideas with moms like you.
We don't write about anything we wouldn't personally recommend to a friend (that's you). We genuinely, honestly, care about our readers so we only share the good stuff.
On Tiny Oranges we are passionate about inspiring moms with juicy finds for sweeter family living.
Whether it's a dinner recipe our kids actually ate, a fun local place to take the family, cute craft or a tip on kid birthday parties, we want to inspire you with ideas that you just might want to pass on to your friends.
I am passionate about my family, creating community, writing, creating, graphic design, giving back, striving for balance, wine and People magazine (preferably together).
Email: jennifer@tinyoranges.com
Facebook @TinyOranges
TinyOrangesOC on Instagram
Follow TinyOranges on Pinterest for some mom-spiration