Break out the adorable red, white and blue outfits, sparklers, stars and stripes…because the 4th of July is right around the corner this week!  I love, love celebrating this holiday with my family, and have complied a round-up of fun 4th of July recipes for kids, sure to please even the littlest of eaters (and critics!) at your family BBQ.  Plus, you'll have fun making these with your tiny chefs!
4th of July Breakfast Toast
Idea and image found on http://www.buzzfeed.com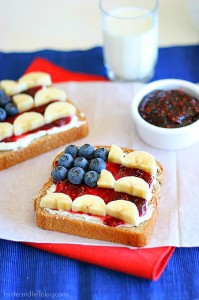 How cute is this??  A great, pretty healthy way to start off your holiday…and sure to impress your kiddos.
Firecracker Popcorn
Idea and image found on http://thenerdswife.com
A yummy, easy, festive snack – yes, please!
4th of July Fruit Kabobs
Idea and image found on http://thefrugalgirls.com

There are SO many creative ways you can make fruit kabobs, but I thought this one was pretty cool. I especially love the addition of the star marshmallows – yum!
Watermelon Pops
Idea and image found on http://catchmyparty.com 
This is seriously the easiest recipe I found.  And you know what?  My kids will probably eat these with more enthusiasm, simply because they look like a popsicles.
4th of July Strawberries
Idea and image found on http://www.cutefoodforkids.com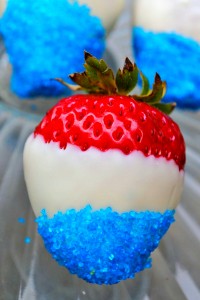 Deliciousness. Period. My kids will probably eat 20 of these at a time!
American Flag Veggie Tray
Idea and image found on http://www.livinglocurto.com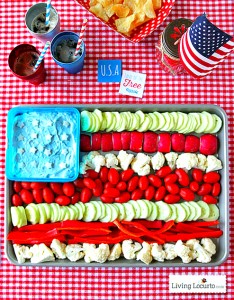 I thought this was a really adorable way to serve your veggies.  And you can pick and choose your vegetables, depending on your family's preferences (and flag color coordination, of course!).
Fruity Stars and Stripes Flag
Idea and image found on http://www.bettycrocker.com
My kids will pretty much eat anything with graham crackers.  And this is such a cute way to get them involved and help make 4th of July edible "flags." Love it!
Wild Berry Frozen Yogurt Sandwiches
Idea and image found on http://www.partytipz.com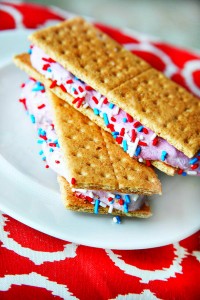 This is a (semi) healthier dessert option to serve your kids and party guests – and it looks delicious!  Frozen berry yogurt with red/white/blue sprinkles, sandwiched between graham crackers. YUM!
Red White and Blue Rice Krispie Treats
Idea and image found on http://mylitter.com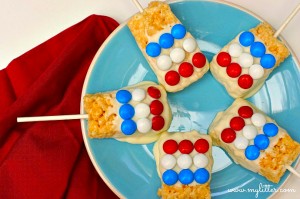 Again, I have found SO many Rice Krispy treat recipes, and I thought this one looked super fun for the 4th of July. And such a cute (and easy!) treat to make with your kiddos!
MnM Sparklers
Idea and image found on http://ourbestbites.com
Not only a delicious dessert to serve, but how fabulous would these look, doubling as centerpieces?  So fun for a family 4th BBQ!
What are your favorite kid-friendly 4th of July recipes?  Please share below!
And happy 4th of July!  Enjoy a wonderful day with your families.