These important child safety tips just might save a life or save a child from a serious injury.
Please share!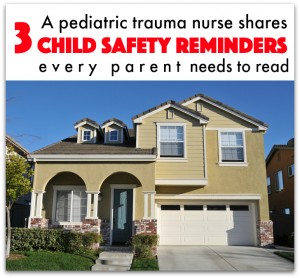 My friend Amy is an Emergency Room Trauma Nurse at CHOC Children's Hospital and asked me if I was interested in sharing some of her child safety tips based on her experience and the injuries she has witnessed in light of May being National Trauma Awareness Month. I couldn't think of a more important post for parents.
Child Safety Tips
by Amy W., MSN, FNP, CEN
Trauma Nurse Coordinator
CHOC Children's Hospital 
1. Water Safety Tips
Spring and summer are an exciting time of year in Orange County. There is much to celebrate and many reasons for family and friends to gather such as Memorial Day, Graduations, Father's Day and Fourth of July.
With adults chatting with their friends it is easy to lose sight of adequate supervision of children, especially near bodies of water such as swimming pools.
Drowning is the leading cause of death and disability in California for children under 5 years of age.
It is not even summer yet there have been more than 16 drownings or near-drownings in Orange County already this year. Adequate supervision means not sitting poolside reading, socializing with guests, chatting on the phone, operating the grill or listening to music with a headset. Such distractions are deadly. Here are some reminders for keeping children safe near water.
1. Parents always need to designate an adult to supervise their swimming kids by keeping them in their direct sight at all times. While there may be plenty of bodies milling about the party, if no eyes are trained on the child, a tragedy like drowning can happen in the blink of an eye.
2. Never leave your child unattended near water. Not even for a few seconds.
3. No one is drown proof. Don't assume your child is water safe just because he or she had swim lessons.
4. If a child is missing, check the pool first.
(Note from Jen: I have heard of people having a special bracelet or other symbol that can be passed around that identifies the adult "on duty" to watch the kids while swimming.  I thought that was a good idea and I wanted to share. Especially during parties where distractions are possible. Plus, it makes sure there is no confusion or miscommunication over who is supposed to be watching the kids.)
2. Avoiding Unintentional Falls
Unintentional falls are the leading cause of non-fatal injuries for children in the United States. As an emergency nurse for over 15 years I have seen it all…falls from playground equipment, bunk beds, trees, etc. However, I am still amazed at the number of children who fall out of second story windows. This occurs in homes of all socioeconomic status and among children of all ages. Some tips to prevent window falls and keep children safe in your home include:
1. Screens are intended to keep bugs out, not children in.
2. Install window stops so windows open no more than 4 inches.
3. Move cribs, chairs and other furniture away from windows.
4. Do not let children climb on furniture or use drawers or shelves as steps.
5. Secure TVs and furniture to the wall using mounts, brackets, braces, anchors or wall straps to prevent tip-overs. These kinds of accident happen more than you might think so take a few minutes, secure your TV and furniture.
3. Poison Danger Reminders
1. Keep toxic substances and medications out of reach of children.
2. Store all chemicals, medicines and toxic products in their original containers, not in food containers or soda bottles that kids will want to drink from.
3. For help, call the nationwide poison control center at 1-800-222-1222. Memorize this number, program the poison control center into your cell phone and place it near every landline telephone in your home.
Every Parent Should Know CPR 
Parents have a million things to do, but learning CPR should be on the top of the list. It will give you tremendous peace of mind – and the more peace of mind you have as a parent, the better. You can find a number of CPR classes near you on the Red Cross website here.
For more information on how to keep your kids safe this summer and everyday please visit to www.choc.org/health-topics/safety.
Amy has worked as a registered nurse in pediatric and adult emergency medicine for over 15 years and is grateful for the opportunity to manage the area's first pediatric only trauma center. 
Amy is an Orange County native and resides in OC with her husband and two school age children.