All links in this post are affiliate links
If you landed on this page today, you are about to read about one of my absolute favorite topics –  cute holiday card sites!   Every year, I pour over my favorite holiday card sites to find the latest and greatest designs to share with you.
9 (Super) Cute Holiday Card Sites 2015 
In no particular order!
1. Paper Culture
Click here to get to Paper Culture holiday photo cards
Modern, eco-friendly cards and for every order, Paper Culture plants a tree.  Tons of cool new designs this year.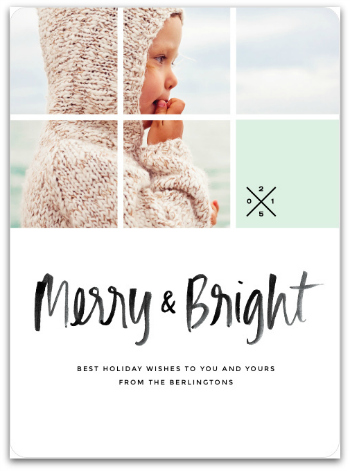 2. Minted
Click here to get to Minted holiday photo cards
I have been a long time fan and customer of Minted and once again, will be ordering my cards through Minted again this year. I especially love all their foil-printed designs like this one.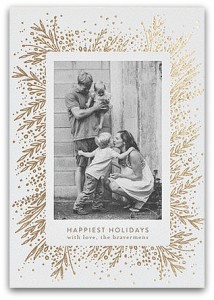 I love Minted also offers matching FREE designed envelopes and FREE recipient address printing. Here is just one example of their cute envelope designs.  And again, it's free!
3. Zazzle
Click here to get to Zazzle holiday cards
It was fun for me to find that Zazzle, an amazing website for customizable gifts (think bags, iPhone cases, pillows, I mean you NAME it!) also has a fab line of holiday photo cards.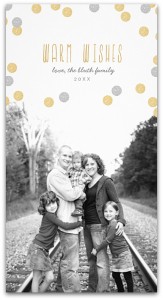 Even cuter? Order matching holiday postage to mail your cards!
4. Tiny Prints
Click here to get to Tiny Prints holiday cards
Of course, right? Yes, Tiny Prints is a long time favorite of many, for good reason. Personally I am a lover of their letterpress designs. Luxurious, timeless, beautiful.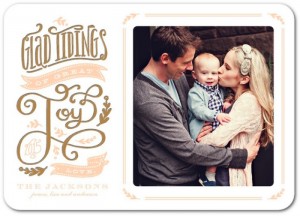 5. Artifact Uprising 
Click here to get to Artifact Uprising holiday cards
The site offers the most beautiful photo gifts for pretty much everyone on your list.  Beautiful photo books, Instagram books, calendars, and more.
Their holiday photo cards follow the same look… simple and tasteful designs and lots of designs lend themselves to pulling images from your Instragram and make it into a photo card.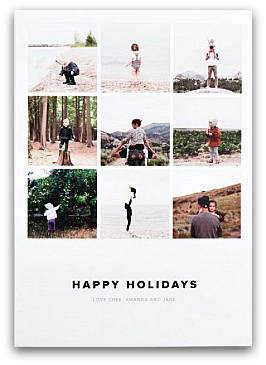 6. Pinhole Press
Click here to get to Pinhole Press holiday cards
Pinhole Press is a fun new find as of last year, offering beautifully simple photo cards, I loved their different collection of collage photo cards.Worth a peek for sure. This design was featured on Daily Candy.
7. The Stationery Studio
Click here to get to The Stationery Studio holiday cards
I have ordered other cute stationery from The Stationery Studio but had never poked around the site to check out their holiday photo cards and found some really cute stuff! Especially lots of cute backer designs to complement the front design like this one.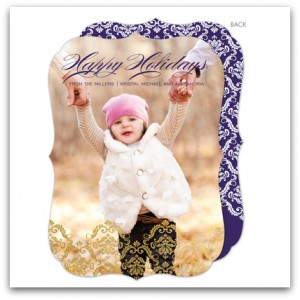 8. Storkie
Click here to get to Storkie holiday cards
This site has a lot of original designs, including this one with the option to add real GLITTER. Love. Talk about adding a little sparkle to your holiday!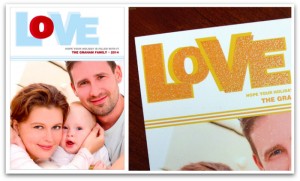 9. PurpleTrail 
Click here to get to PurpleTrail holiday cards
This is a good find friends. I especially love their trifold designs.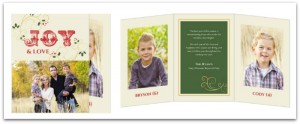 Thanks for looking and happy holiday photo card designing!