I recently discovered the company Cheap Collage online and thought it was a cute idea so I wanted to share it with you. If you are interested in making your own collage, enter code "tiny50" for  50% OFF any order through 2/14/12 – yippee!
First you choose your shape or design your own, upload your personal photos, and then your photos are used in the shape of the design to make a personal and unique piece of artwork.
With Valentine's Day coming up, I thought this heart collage would make a VERY cute gift for a grandparent or child (but please note Valentine's order deadline is 2/3 to ensure you get it on time!)
You can also choose to incorporate one picture or many pictures inside of one word, like your child's name or FAMILY.  How cute would that be?  Or, something like "LUKE TURNS 3" with pictures throughout the year for a birthday party idea?
You could make one of your vacation, use honeymoon or wedding pictures, make one as a gift for a alumni that is nuts over their alma mater, anything!
They also have great race car or airplane design for those of you with little boys who love all things that go! Or a butterfly for your little girls.
But this one happens to be my favorite…and just in time for the month that we celebrate it…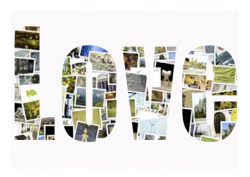 Ahhhhh…and once again, to show us their love, Cheap Collage is offering a coupon code to Tiny Oranges readers to make it even cheaper.
Enter promo code "tiny50" for 50% OFF today through 2/14/12.
www.CheapCollage.com
Follow Cheap Printing Company on facebook *  Tweet with @PrintingCheap on Twitter
Have a great weekend everyone!